While this year did not start with severe thunderstorms, we have already had a somewhat impactful winter in parts of Kansas. As we swing into the first full week of Meteorological Spring (the meteorological seasons start on the 1st of the calendar month, the solar season changes toward the end), it's time to review, refresh, or in some cases make plans to safely withstand and rebound from severe weather's impacts.
Provided by the National Weather Service, this graphic indicates the main action you can take to protect life and property for each of the major spring storm risks. We will deal with each of these, in turn, this week. But today, we take a step back and discuss what preparedness looks like in more general terms and what you can do to be ready when severe weather strikes.
Ahead of the Storm: Outlooks
The Storm Prediction Center publishes outlooks for today and the following seven days, known in weather terminology as Day 1 through Day 8. For consistency of reporting, a weather "day" begins at 12:00pm Greenwich Mean Time (GMT or UTC) and goes through the same time the following day. This means in the Central time zone Day 1 is 6am today to 6am tomorrow (winter) or 7am today to 7am tomorrow (summer).
There are numerous standards for what level of risk SPC can indicate within their outlooks — due to the uncertainty in forecasts several days in advance, the further in the future the lower the "top risk" level SPC forecasters are allowed to issue. For example, it is not allowed (nor within the ability of the science in its current state) to issue a HIGH risk area on the Day 7 outlook. In fact, starting on Day 4 SPC doesn't use the color-coded (categorical) risk areas at all, but will indicate only whether the overall severe thunderstorm probability is greater or less than certain threshold percentages…most frequently 15%, but a 30% probability can be issued for day 4.
There are six color codes for the increasing risk levels shown on the Day 1, Day 2, and Day 3 outlooks. The graphic below indicates the colors and meanings: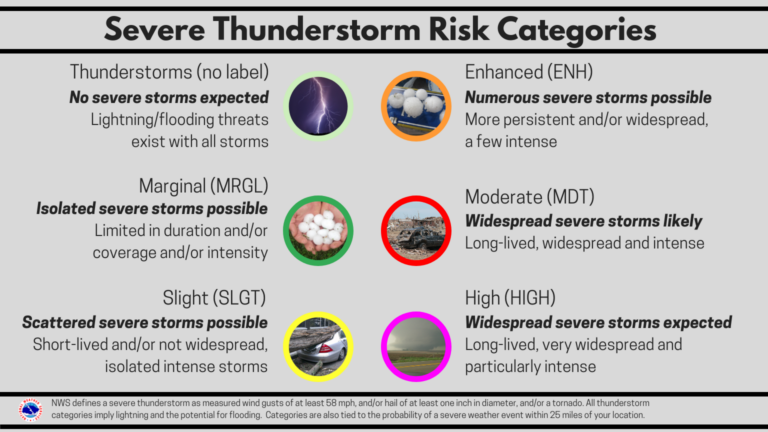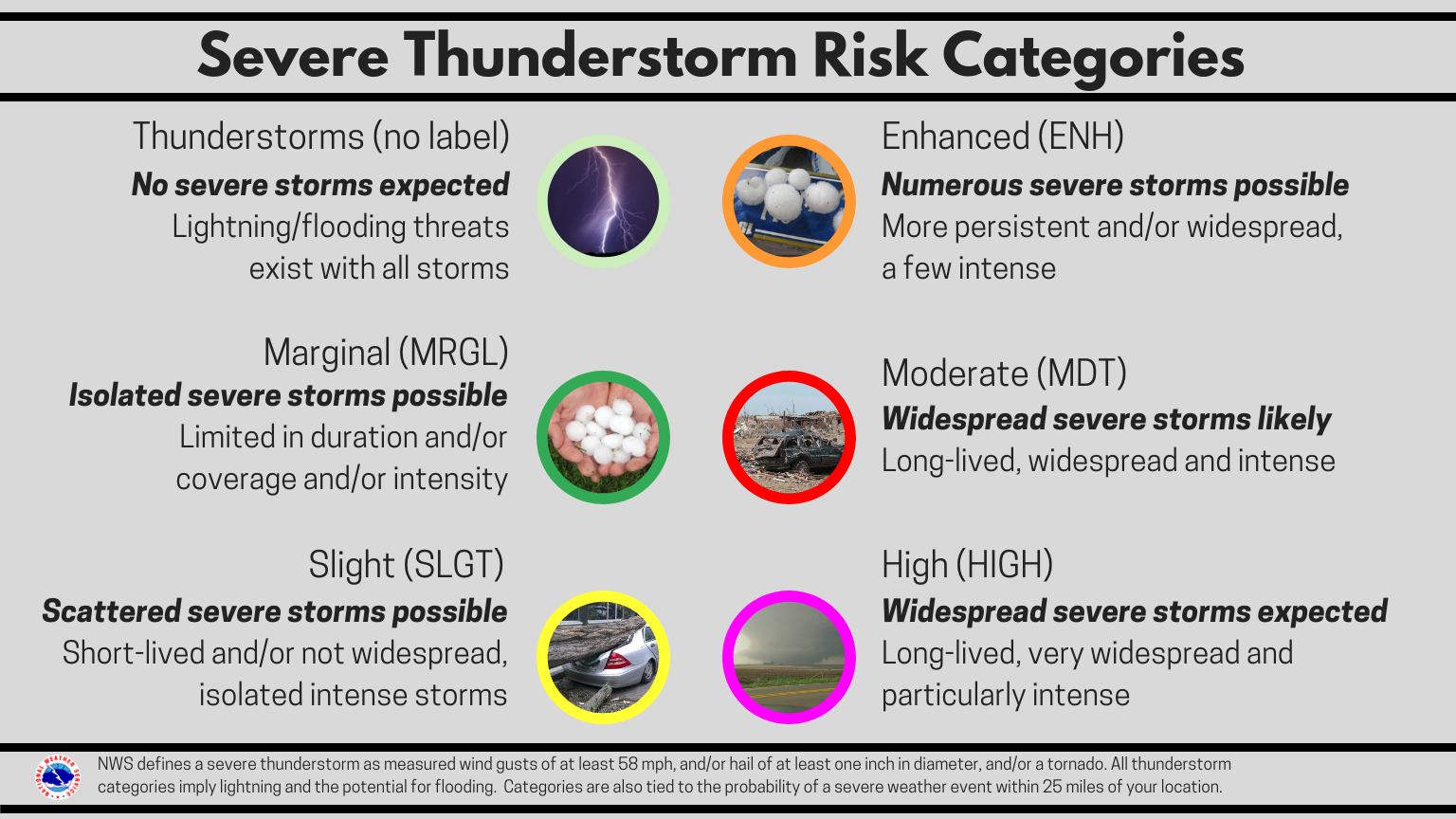 In addition, on the Day 1 and Day 2 outlooks, forecasters may indicate an area of risk for high-impact weather by adding black hatching. The exact meaning of the hatching varies by tornado, hail, and wind risks, and corresponds with the NWS criteria for high-impact, such as tornadoes stronger than EF-2, Wind gusts above 70mph, or hailstones larger than 2″. When we produce graphics for our KSStorm.Info Outlooks the SPC risk areas may end up looking like this:
As you can see, these maps indicate the probability of the stated condition — in this case damaging wind — occurring within 25 miles of any randomly-selected point in the color area. For example, on this day there was a 15% probability of damaging wind within 25 miles of Hays, while there was a 10% probability within 25 miles of Manhattan.
Action Step: Have Several Ways to Monitor Weather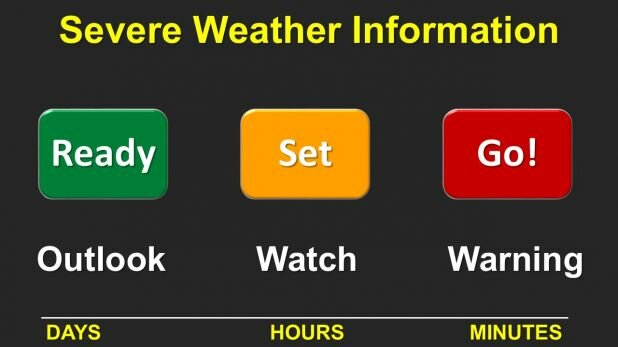 So we've talked about Outlooks. The next level of preparedness is when a Watch is issued. But how will you know a watch has been issued for your area?
The Gold Standard: NOAA All Hazards Alert Radio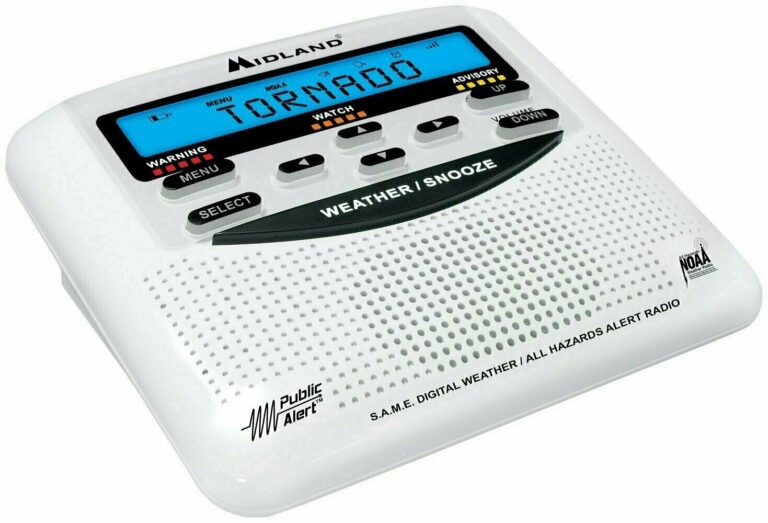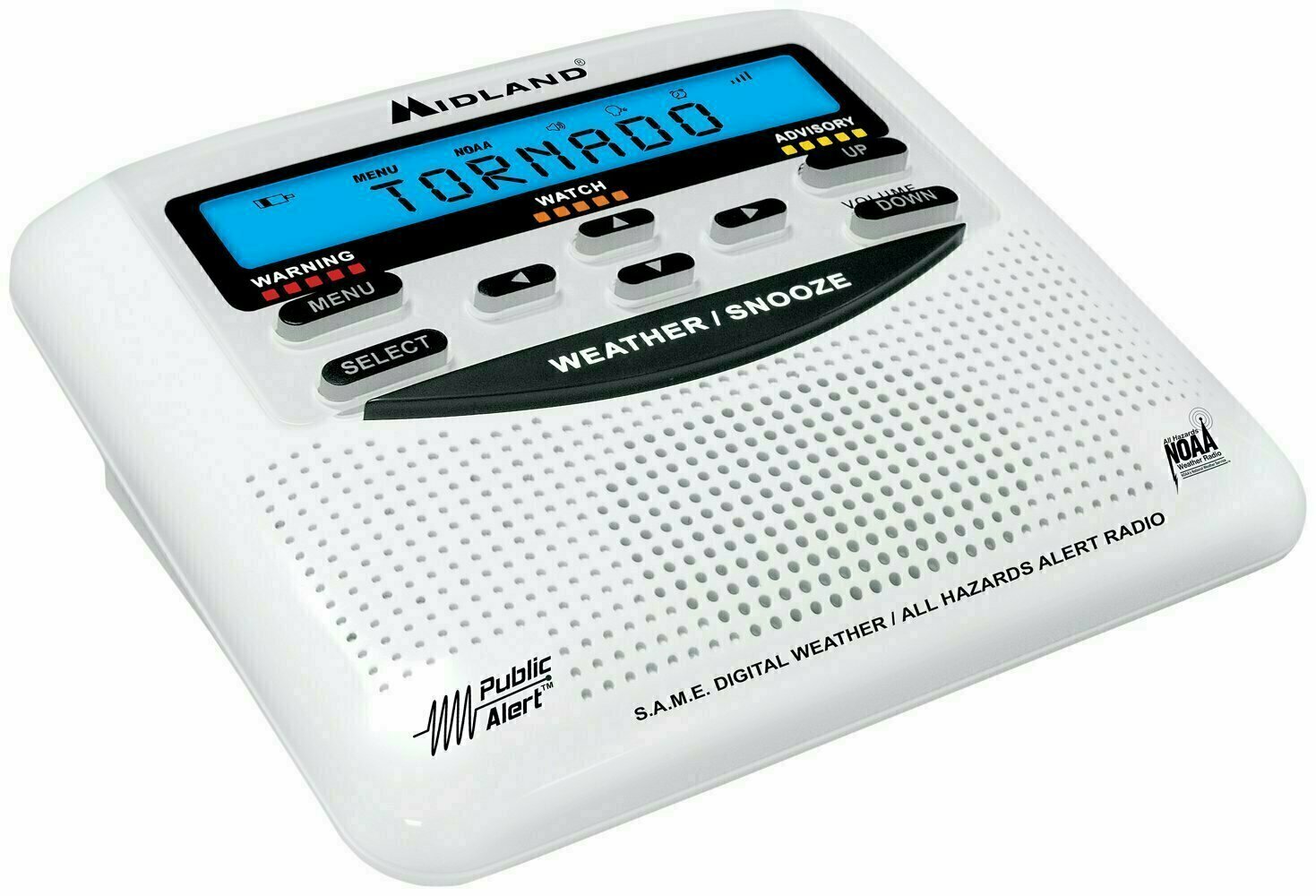 These radios can be programmed to only alarm when a watch or warning is issued for your county. Every county in the US has a specific code that is sent at the beginning of the watch or warning message, then the radio unmutes and you can hear the computer voice read the warning text. A bonus: you can hear the official NWS forecast and many of the other products issued for the area in times when the alert is not sounding by pressing the Weather/Snooze button.
Layer 2: Your mobile device
There are a number of apps that provide weather forecasts and alerting for wherever you happen to be at any given moment. TV station weather apps include this ability as well. Don't want to be woken up at night for a severe thunderstorm warning? You can usually set the apps not to make an audible notification. Don't shut off the notification sound for tornado warnings. In fact, I'd suggest downloading a loud, obnoxious sound (perhaps even a recording of a tornado siren) to use for that notification.
Layer 3: Broadcast Radio or TV
In spite of our mobile lifestyle, radio and TV are great for keeping up with things as they develop during the day. Pick a news station you trust and check in with them regularly. As we get later in the day (watches and warnings are more frequent after 2pm than before), perhaps keep radio or TV on in the background.
The final layer of personal and family readiness is having supplies and important items prepared for a trip to the storm shelter. We'll be covering these things in more detail later this week when we discuss specific risks. But there is one more layer I highly encourage you to enable so you have every chance of receiving a warning in a timely manner:
Layer 4: Wireless Emergency Alerts (WEA) on your mobile device
I have an Android mobile device. To locate the settings for WEA, search for wireless in your settings app as shown below: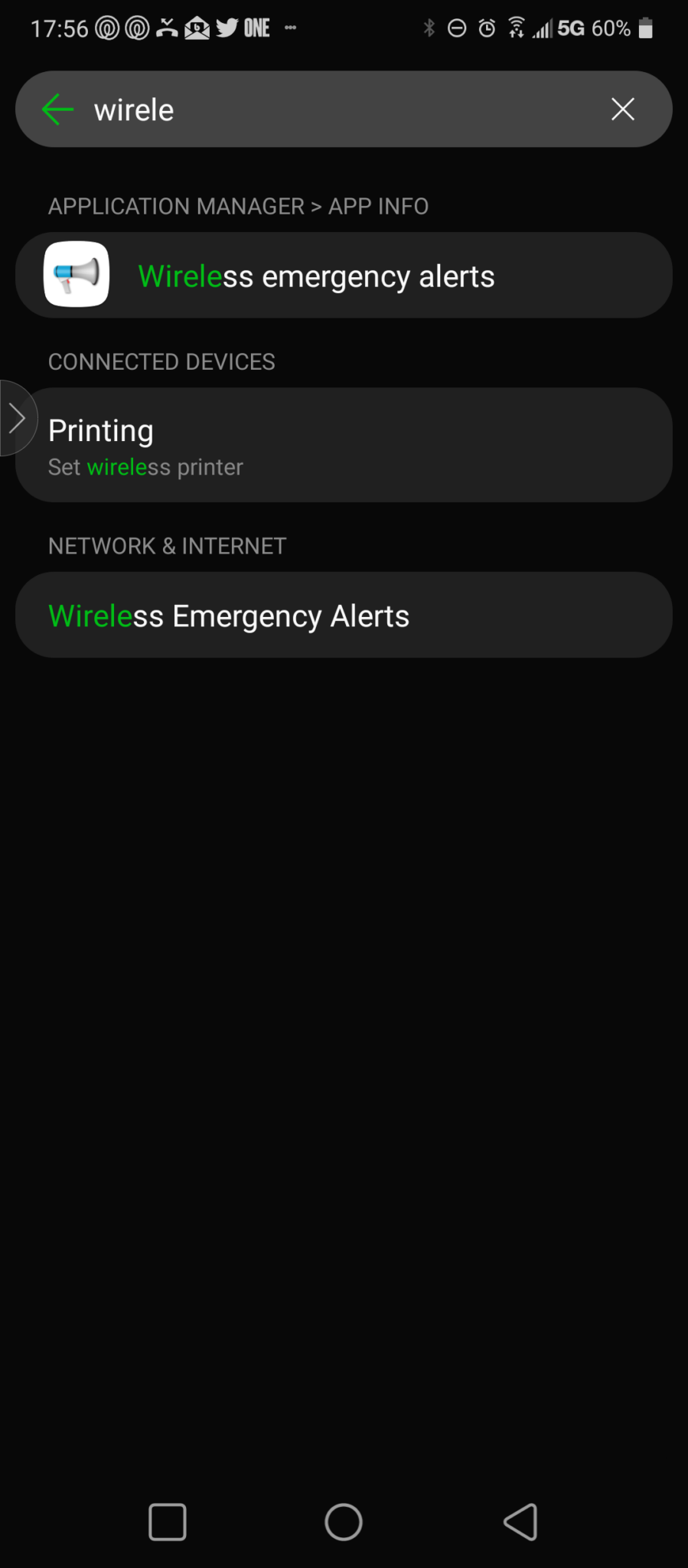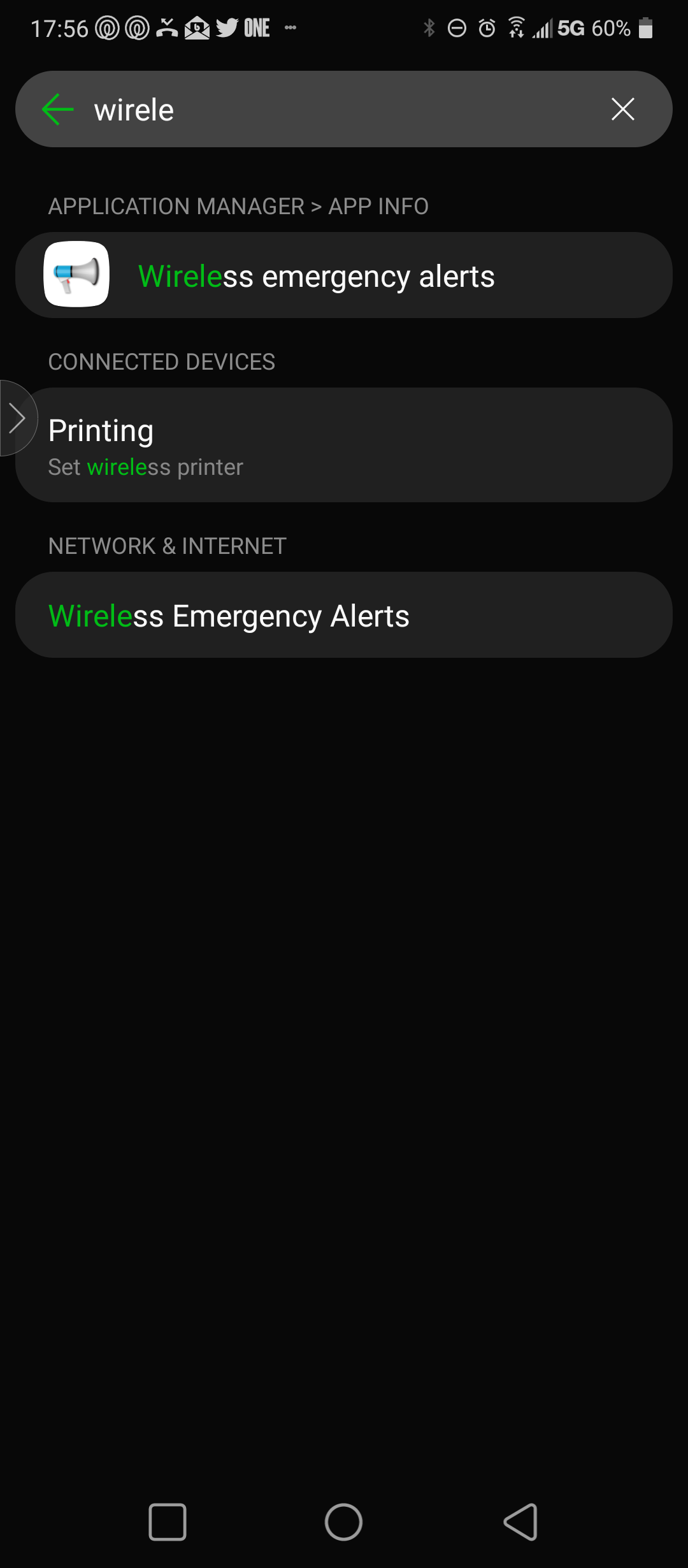 Selecting the bottom item brings up this screen: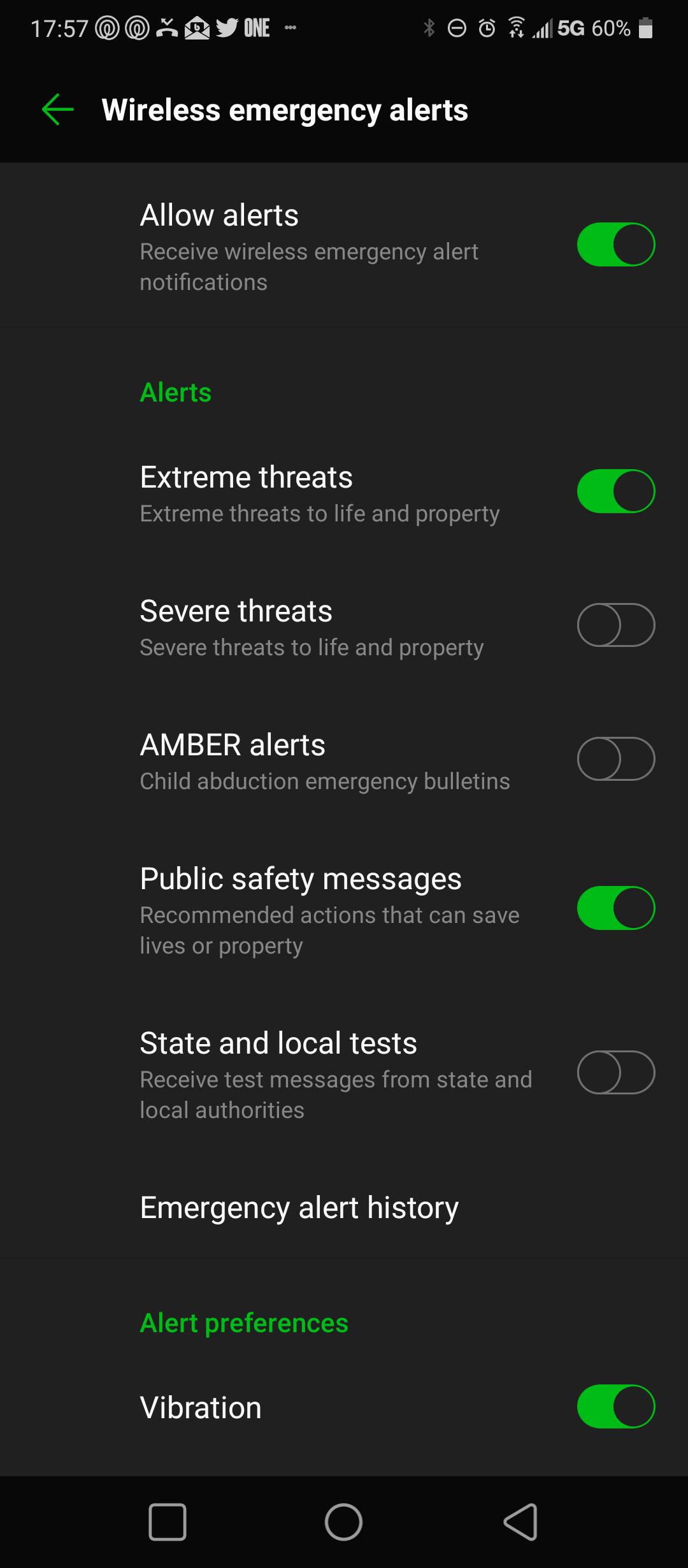 These are the settings that work well for me. I receive alerts for Tornadoes (Extreme threats) and Evacuation or Shelter in Place orders (Public safety messages). I do not receive audible alerts for Severe Thunderstorms (Severe threats) or AMBER alerts, nor for state or local tests. This works for me because I get severe thunderstorm alerts through another app, and the frequency of these alerts, while I'm chasing, can be overwhelming. For the times when I expect to have a severe weather risk while sleeping, I rely on the weather radio. You'll need to make your own decision balancing the risk of missing a warning and the risk of ignoring a warning because you get too many at the wrong time.
(Disclaimer: these settings meet my needs and may not reflect the right choice for you. Neither I nor KSStorm Media accept any liability if you miss a warning using these settings and suffer an injury or loss.)
Coming Tomorrow: 2021 Tornado Stats + Tornado Prep Tips