Stats:
Miles: 428
Time: 9 hours, 49 minutes
Ground Truth reports: 19 to NWS Dodge City (17 on Twitter, 2 in NWS Chat)
Tornadoes: 1 (we reported and saw as a funnel, but confirmed tornado by Bill Turner, NWS Dodge City, minutes later).
Severe Hail: none observed
Severe Wind: none observed
Map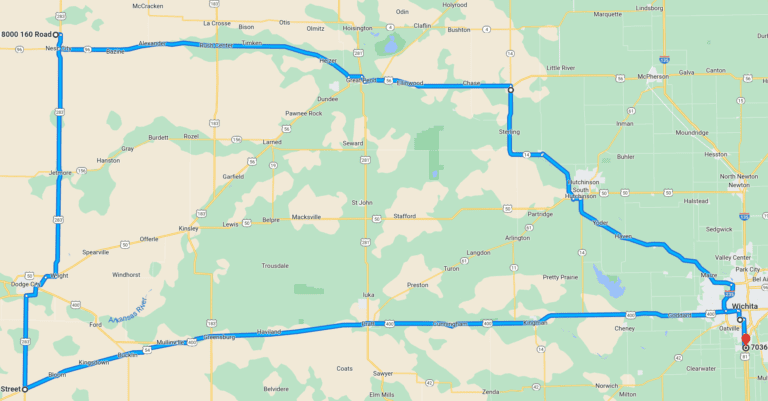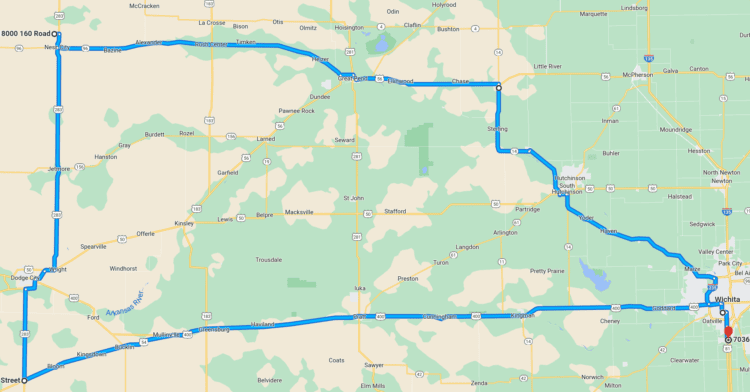 Key Decision of the Day
We stopped for a few minutes in Minneola about 5:30pm. At this time, towers were going up pretty nicely in Hodgeman county and a bit north of there. We both keyed on the sharp edges of the growing towers and made the decision to move north.
Early Development (Southern Ness County)
We stopped along US 283 in southern Ness County (70th Rd) and watched the earlier storm for a while. This panorama is the best shot from the group at that time. (click the photo to enlarge. I started looking south and scanned through west to northwest.


7:20pm through 9:20pm (north central Ness County)
Our ultimate stop for this event was not far north of Ness City (160th Rd and US 283, west about 1/2 mile to sit on top of a ridge). For two hours we watched the storm pretty much sit in place with a persistent bowl-shaped lowering — a slowly-rotating wall cloud.
On all these images, view the larger version by clicking or tapping in the photo.
7:23pm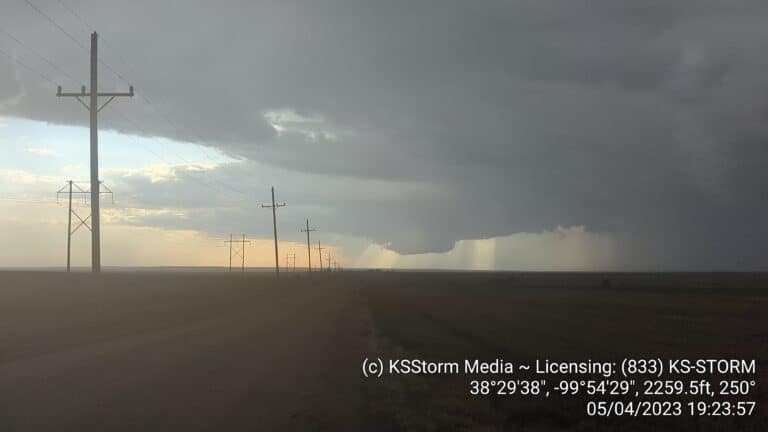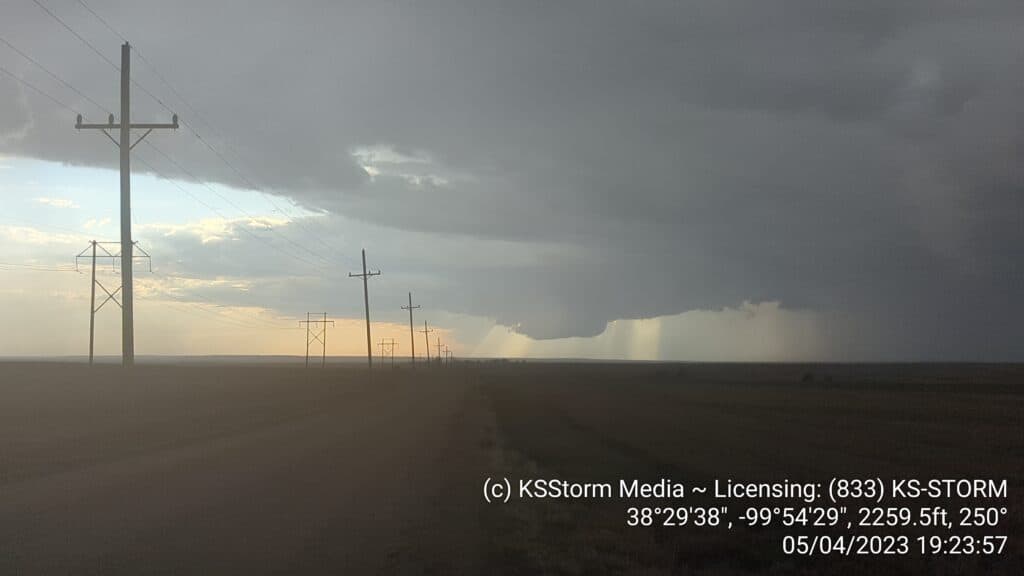 8:33pm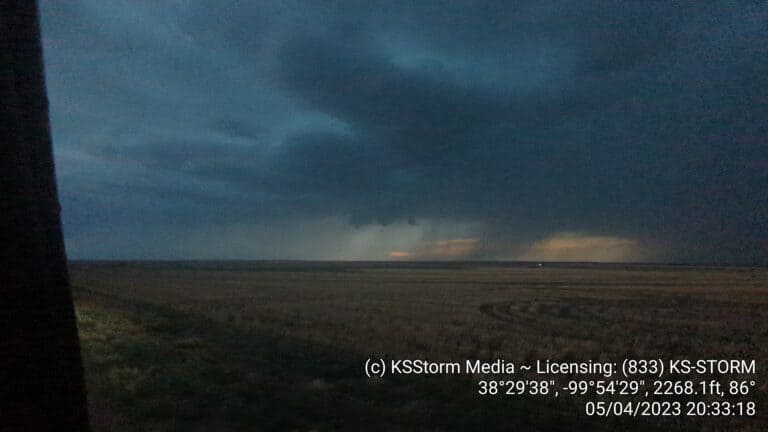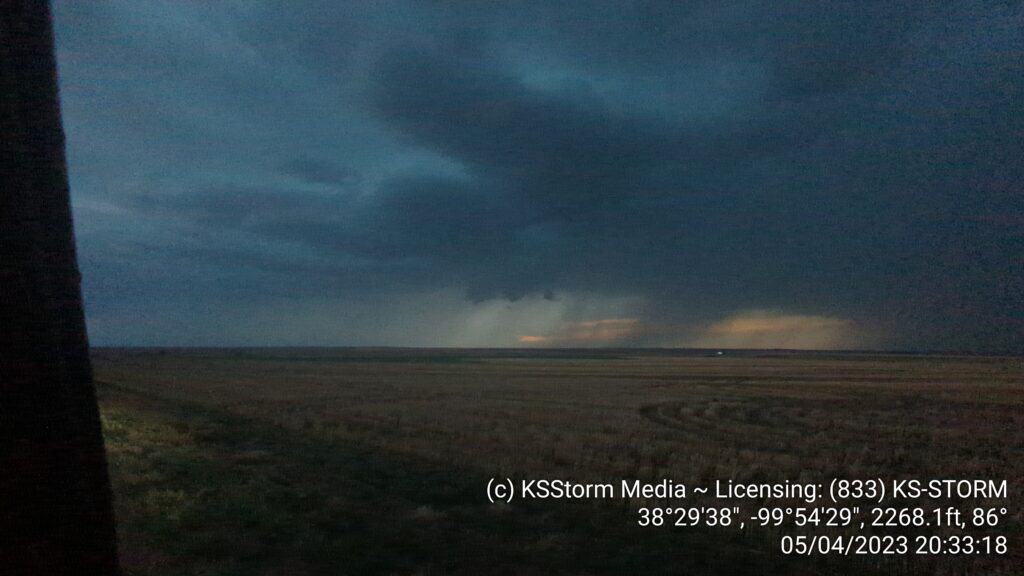 Just as we thought things were going to wind up, they got busy instead.
8:51pm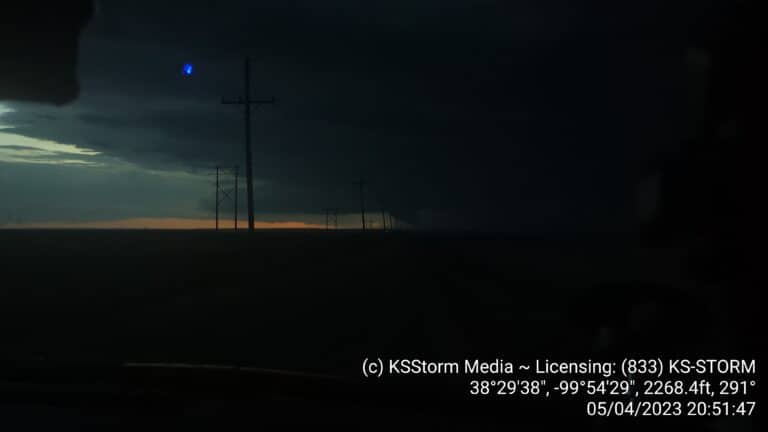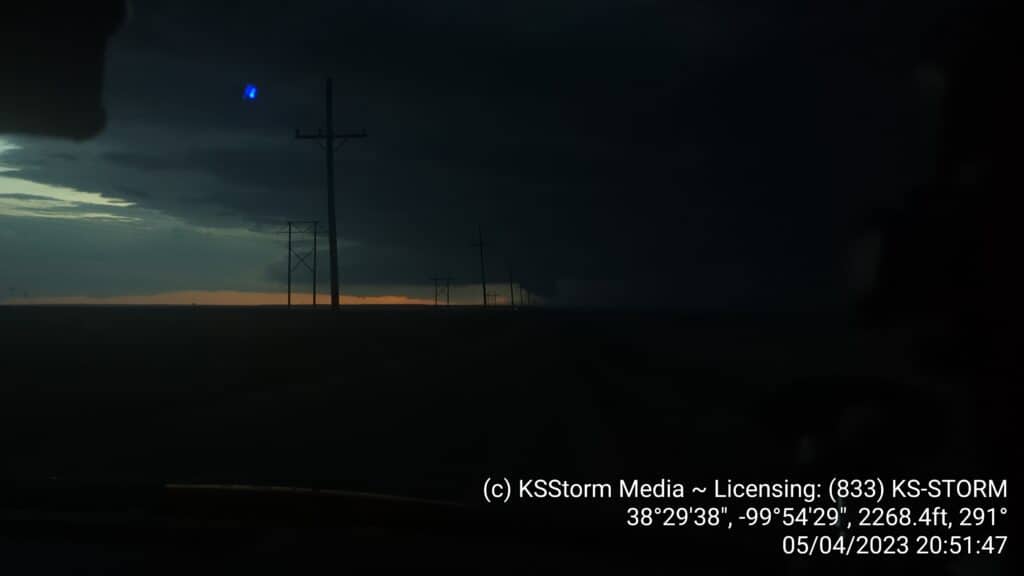 8:54pm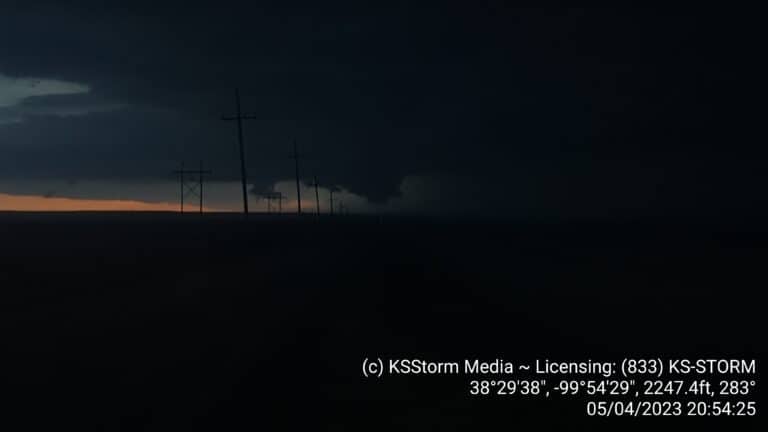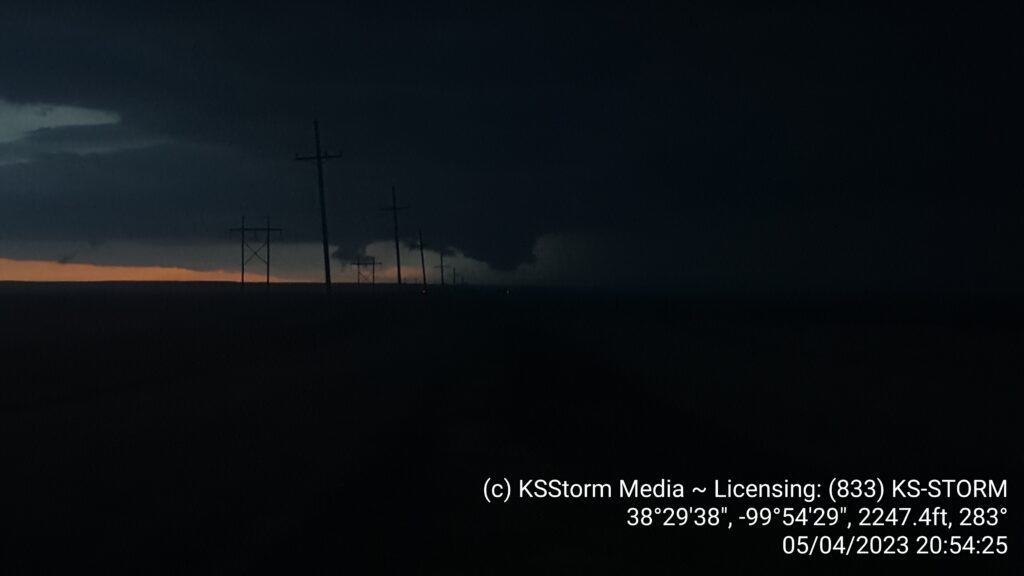 This is the photo I sent on Twitter providing the NWS Dodge City forecaster visual verification of the funnel I reported on NWS Chat.
[01:52:26] Developing funnel 5mi west of us, so 7ish NW of Ness City.. Photo on the way on twitter
[01:52:56] thanks KWCH
[01:57:08] DDC issues Severe Thunderstorm Warning [tornado: POSSIBLE, thunderstorm damage threat: CONSIDERABLE, wind: 60 MPH (RADAR INDICATED), hail: 2.00 IN (RADAR INDICATED)] for Lane, Ness [KS] till 9:45 PM CDT https://nwschat.weather.gov/vtec/#2023-O-NEW-KDDC-SV-W-0022
[02:01:57] DDC issues Tornado Warning [tornado: RADAR INDICATED, hail: 2.00 IN] for Lane, Ness [KS] till 9:45 PM CDT …AT 901 PM CDT, A SEVERE THUNDERSTORM CAPABLE OF PRODUCING A TORNADO WAS LOCATED NEAR ALAMOTA, MOVING EAST AT 15 MPH. https://nwschat.weather.gov/vtec/#2023-O-NEW-KDDC-TO-W-0011
[02:13:27] DDC continues Tornado Warning [tornado: OBSERVED, hail: 2.00 IN] for Lane, Ness [KS] till 9:45 PM CDT …AT 911 PM CDT, A CONFIRMED TORNADO WAS LOCATED NEAR BEELER, MOVING EAST AT 15 MPH. https://nwschat.weather.gov/vtec/#2023-O-CON-KDDC-TO-W-0011
[...]
[02:17:43] Local Storm Report by NWS DDC: 5 N Alamota [Lane Co, KS] nws employee reports TORNADO at 09:09 PM CDT -- off-duty nws employee reported cone tornado in progress. https://nwschat.weather.gov/lsr/#DDC/202305050209/202305050209

NWS Chat transcript from this period
It turns out my location was incorrect…this was closer to 19 or 20 miles west of us, according to a measurement Matt made a few minutes later in RadarScope. Here's the video I tried to send to NWS via Twitter (it didn't go).
8:58pm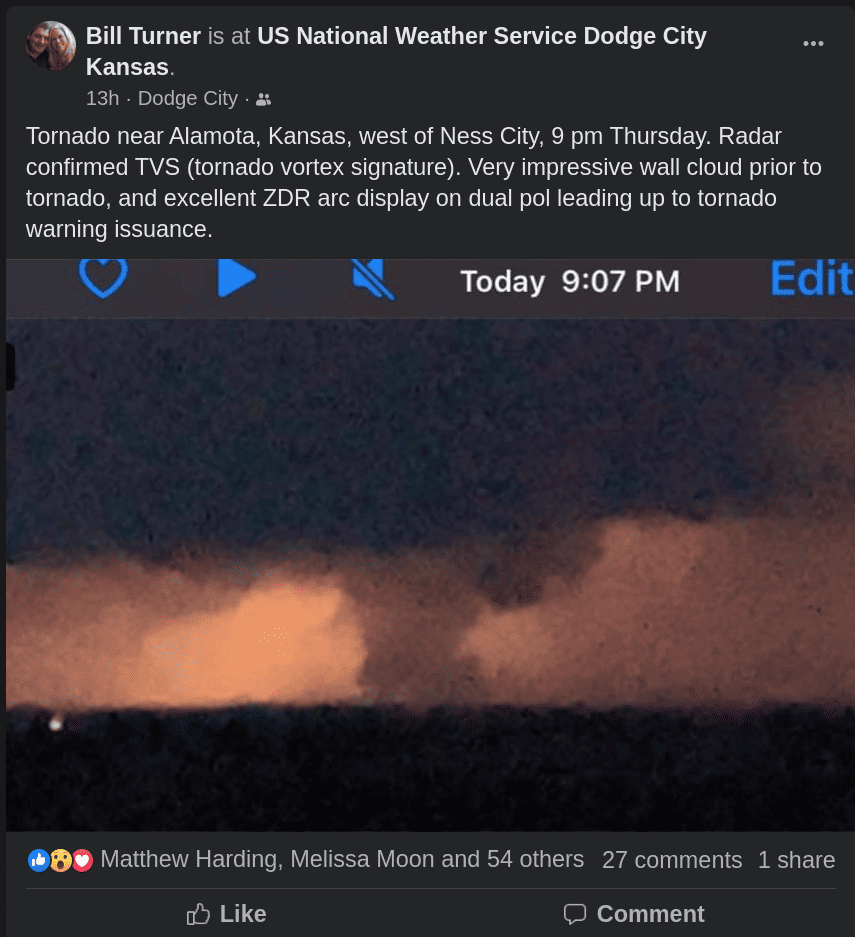 9:12pm
It had become very difficult to see, but the cone could still be seen just south of the rain shaft when lit by lightning:
Bottom Line
Yesterday turned out way better than we expected.
There was only one tornado in Kansas yesterday. We were the initial ground truth, while it was still a descending funnel.
KWCH used our live stream video both earlier in the storm and while the tornado was on the ground (in the beginning of the 9pm KSCW newscast)
We expected to maybe see some hail, if we were lucky. Literally, until about an hour before we left, I was coming down on the "stay home" side of the fence. Leaving town and for most of the drive to Minneola, I was still thinking in the back of my mind we'd made a mistake. But seeing those towers from US 54 northeast of Minneola triggered something for Matt and me, and the gamble ended up paying off.
Congratulations to Ed Oneal and Bill Turner, who were the only other spotters on the storm to my knowledge.