SPC's Official Risk Categories — Click to Enlarge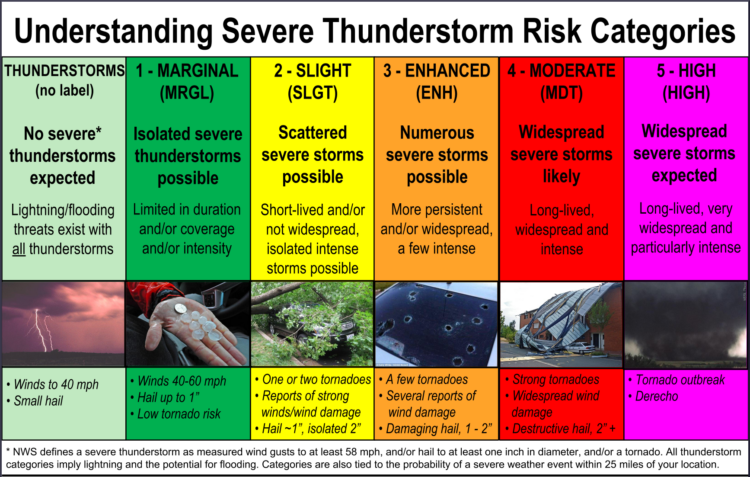 I strongly urge you to read this Storm Prediction Center page in detail — it will help you get full understanding from this post.
How our scope differs from SPC
In a word: specificity.
KSStorm.Info serves Kansas, particularly the areas identified here. The SPC serves the entire nation. The difference in scope is probably best illustrated by this excerpt from today's SPC discussion for Wednesday:
WHILE OVERALL STORM COVERAGE SHOULD REMAIN WIDELY SCATTERED TO ISOLATED...SIGNIFICANT SEVERE WEATHER IS EXPECTED WITH ANY STORM WHICH DOES DEVELOP.
Widely scattered to isolated, with high-end impacts = SLIGHT RISK (according to the Day 3 grid near the bottom of the SPC page above). However, as models sit at the moment I'm writing this, enough of those "widely scattered" thunderstorms are forecast to impact in or close to the highest-population areas of Kansas that we are weighing an upgrade in the KSStorm.Info risk level to communicate the risk specifically for a core of 10 or so counties.
Things we weigh in making the decision to break with the SPC's risk categorization:
Will we enhance preparedness or muddle the message if we go off-reservation?
Do the four of us agree the risk is at the altered level?
Really, that's it. And I suspect, even if we agree the level is higher in this case, if one of us feels going off-reservation will muddle the preparedness message by making people consider unwise preparations, we won't do it. Very similar to the oft-cited instance El Reno day of a certain meteorologist saying people should get in their cars and drive south. (Reminder: that is very bad advice.)
If we choose to go with Enhanced or Moderate category risk on this event, it will be with multiple, loud disclaimers. Overreaction or hyping a situation is as bad as ignoring it…maybe worse.
Regardless what we decide, we value your response and reaction to our decision. If we ever get the hype/value ratio wrong, please don't let us get away with it. We always want to be on the side of considered preparedness, not overreaction.