It's an annual rite of passage in Spring, the daily severe weather forecast. If you are the uber-weather geek, you are likely checking the Storm Prediction Center's forecast, sometimes multiple times a day, to get the latest severe weather forecast.
But if you are not one to check the severe weather forecast every day, do you know the risk categories and how to use them in your severe weather preparations?

Five Tiers Indicate Risk, Probabilities
The color-coded, five-tiered forecasts became operational in late 2014 and offered an update to the three-tiered — slight, moderate, high — system that had been in use for more than forty years.
"We found that many people only looked at the categorical risk terms (Slight, Moderate, High) and not the probabilities, and as a result may have missed important information about the risk," said Bill Bunting, Chief of Forecast Operations for the Storm Prediction Center.  "By adding two additional categories (Marginal Risk better reflects lower probability risk than the previous "See Text"), virtually any change to the underlying probabilities now results in a change in the risk category.  This allows one to gain a more complete picture of the spatial distribution of the risk simply by looking at the convective outlook categorical risk graphic."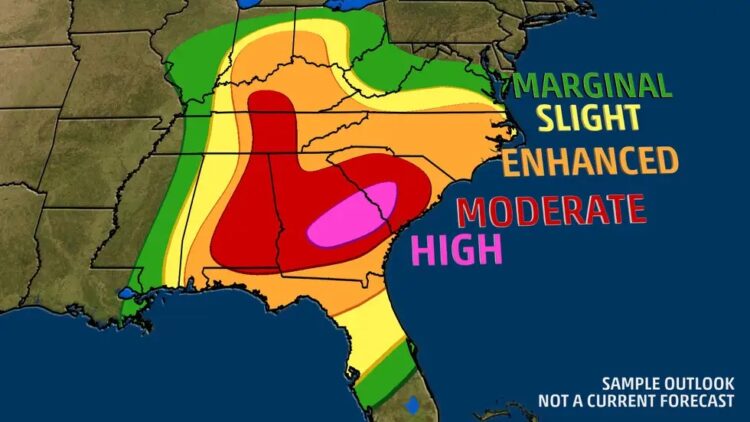 Feedback on the change is positive
Since the change, Bunting says the response from NWS meteorologists, broadcast media, and emergency management partners has been positive.
Bunting says the outlook forecasts, issued multiple times each day, are based on anticipated coverage of severe storms. From there, forecasters use subjectively based calibrations for a tornado, large hail (larger than one-inch in diameter), and damaging wind (58 mph or more) risks within 25 miles of a given location. Storm Prediction Center forecasters do not issue forecasts for heavy rain and lightning. But, heavy rain and lightning are just dangerous as a tornado, hail, or high winds.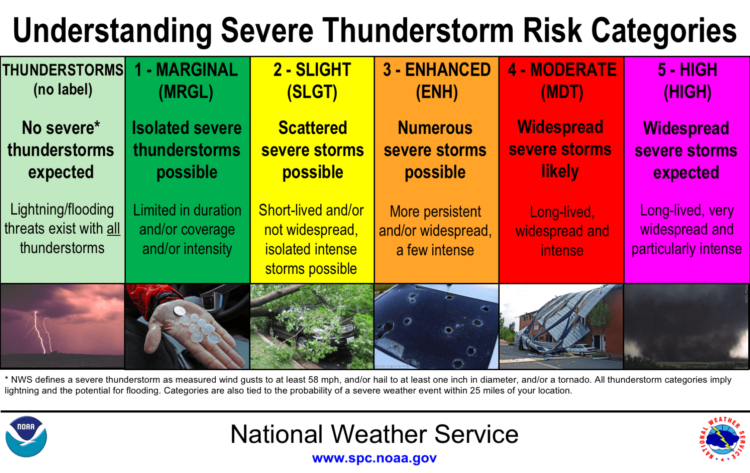 "The risk terms reflect an increasing likelihood of a severe storm at any given location from Marginal to High Risk, and this is very useful information to anyone wanting to plan for severe weather. The individual hazard probabilities in the Day 1 and Day 2 Convective Outlooks provide insight into which threats are greatest on a particular day," Bunting said.
When severe weather is forecast, forecasters at local National Weather Service offices will offer media partners and emergency managers briefings on the greatest risks in a particular area. From there, they relay the information to the general public. The communication of risks could be used to postpone outdoor or mass-gathering events, church services or shorten school days.
Since the five-tiered system's implementation, there have been some slight refinements as social science has evolved. Bunting says the SPC continues to work with social and behavioral scientists to better understand how to communicate severe storm risk. They will gather best practices from that research to help guide any potential future changes to their communication strategies.  This could include changes to the risk terms, colors, numbers, and other aspects of the communication process.
Outlooks are the first step in your Severe Weather preparation