Good evening! We continue to monitor the happenings with the winter storm, which is hours away from impacting the state. We have made some changes to the forecast and there have been changes to the winter storm watches. Let's get into what we think will happen over the next 18-24 hours.
Current Warnings/Advisories
Here are the latest winter storm warnings and winter weather advisories for Kansas: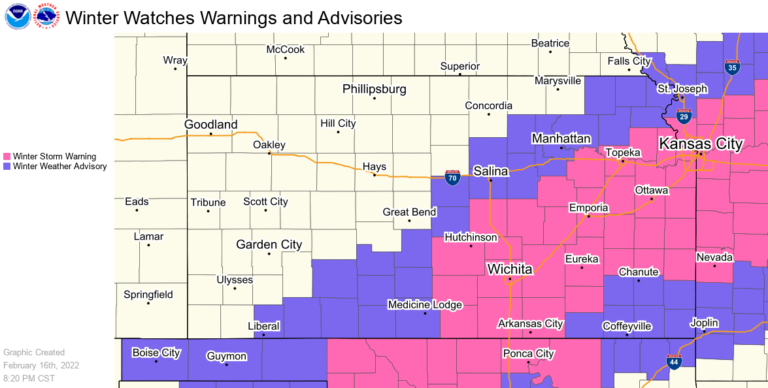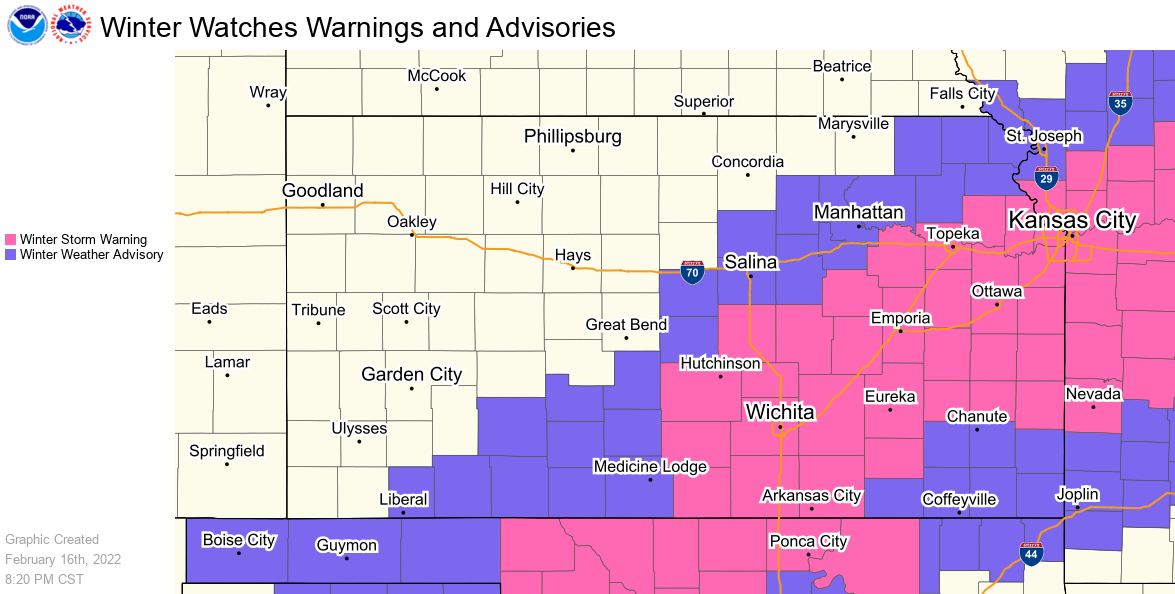 What We Expect to Happen Overnight
We are beginning to see showers and rumbles of thunder break out in southeast Kansas as of this writing (9:05 pm). We do not expect severe weather with this activity, but some brief heavy rainfall is a concern. We are also watching showers breaking out in eastern Texas and that will continue as we move through the night. This is the first piece of the main energy that will be moving out into the Plains later in the night.

Temps continue to cool across the state and temps are expected to fall below freezing for most areas by 1 am. As this happens, additional rain showers will develop and will begin to mix with sleet and freezing rain. Snow will also begin to mix in and change the precip over as we approach sunrise. By 5 am, most areas along and west of the Kansas Turnpike will likely be all snow. Accumulation by morning will generally be 1-2 inches.
Main Event Will be Thursday
As the cold air wins out, we will change over to all snow. The snow will be heavy at times, with winds from the north at 25-35 mph with gusts to 45 mph for most areas east of highway 281. During the height of the storm, snow will fall at 1-2 inches per hour. Right now, it appears the height of the action will be from 4 am to noon, with activity ending from west to east during the mid to late afternoon hours.

As Scott alluded to in his midday update, the wind will be a huge issue in addition to the snow. With a north wind, east-west roads will suffer drifting issues. If you have to go out, be prepared for substantial drifting.

By the time the sun sets Thursday, the snow will be over and skies will be clearing out.
How Much Snow is Forecast?
We have held off until the signal was clear, but we now believe that areas along the Kansas Turnpike have the best chance to see the most snowfall from this snowstorm. The rest of the forecast remains unchanged.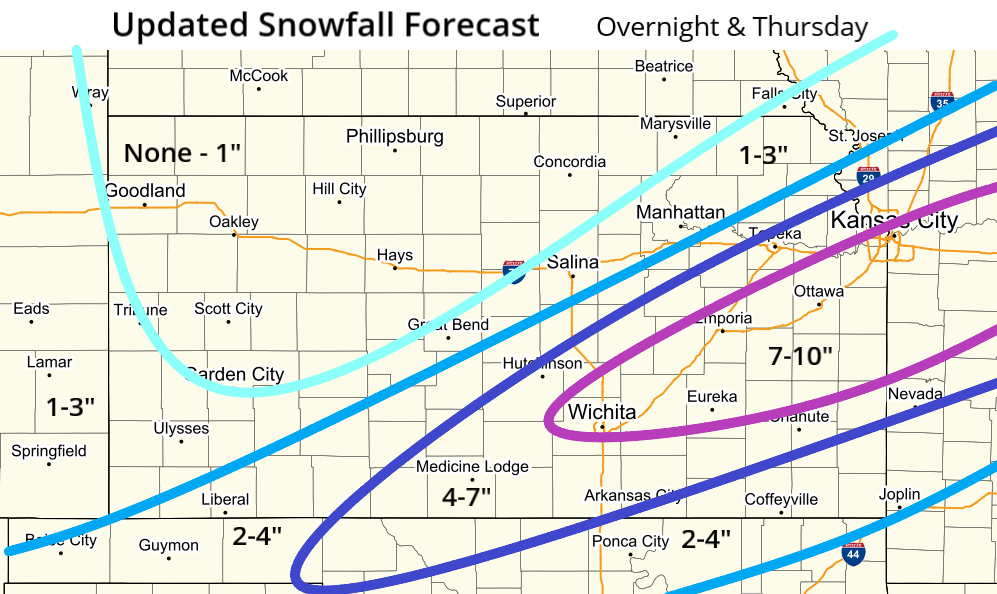 DISCLAIMER: Please be aware, there will be areas of higher snowfall than what we've shown here. Totals of up to a foot may be seen, but it's beyond the state of the science to be able to say just where until just before the snow bands actually set up.
What Can You Expect from KSStorm?
We'll have updates on how things are transpiring here on the site, as well as on our Facebook and Twitter pages. I'm sure Scott will be out in the conditions Thursday morning, and if he is, he'll be live at ksstorm.live.