The Tahoe was facing nearly $10,000 in work over the winter, and I just couldn't justify it on a vehicle worth less than that. So I retired the Tahoe in August and bought a 2013 Chevy Traverse. The interior room is a little bit less, but it isn't really that bad of a ride for lengths of time (of course I don't ride in the back seat, it may be different back there).
Seven Months to Outfit
Usually I am all over getting a new ride ready to chase. But technology advances over the past several years mean I can actually do an adequate job of chasing pop-up storms and winter weather without all the gear in the car. So I went much slower this time. Of course, there were things that intervened, such as our month-long (scheduled) cruise to Alaska and the Panama Canal, the passing of Roxan's father that brought us back at the mid-point of the trip, a couple of months learning the ropes of the travel agent business, and the budgeting needed to take another cruise to the northeast US and Canada this October. So I've gotten the limited amount of new equipment I needed a little at a time, and put it in the car as the weather was nice enough to do it. I completed the project this afternoon.
The Car: Appearance and Safety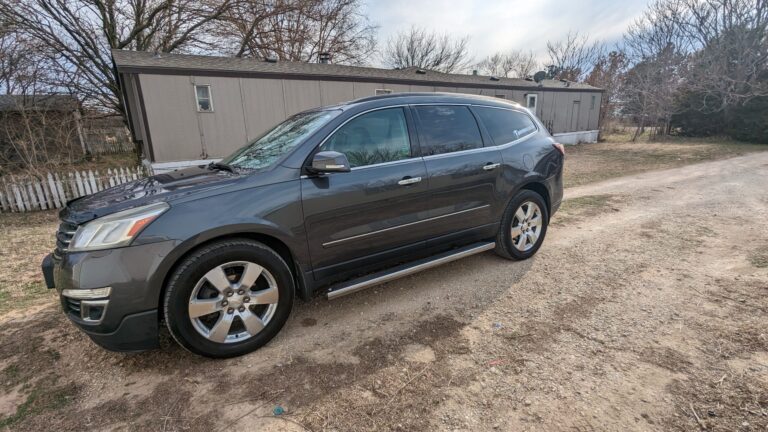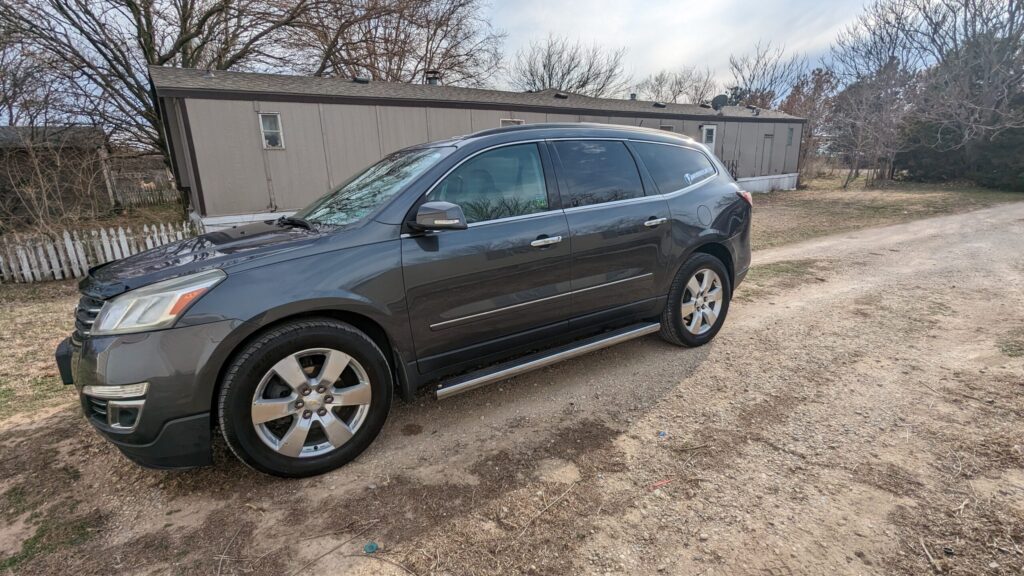 I'm not one to go garish on the car, like with huge logos or vehicle wraps, etc. I'm out there to document and report storms, not to be an attention hog. You might notice the Storm Team 12 front plate or the small CERT sticker on the windshield. Or maybe you'll see the logos on the back windows: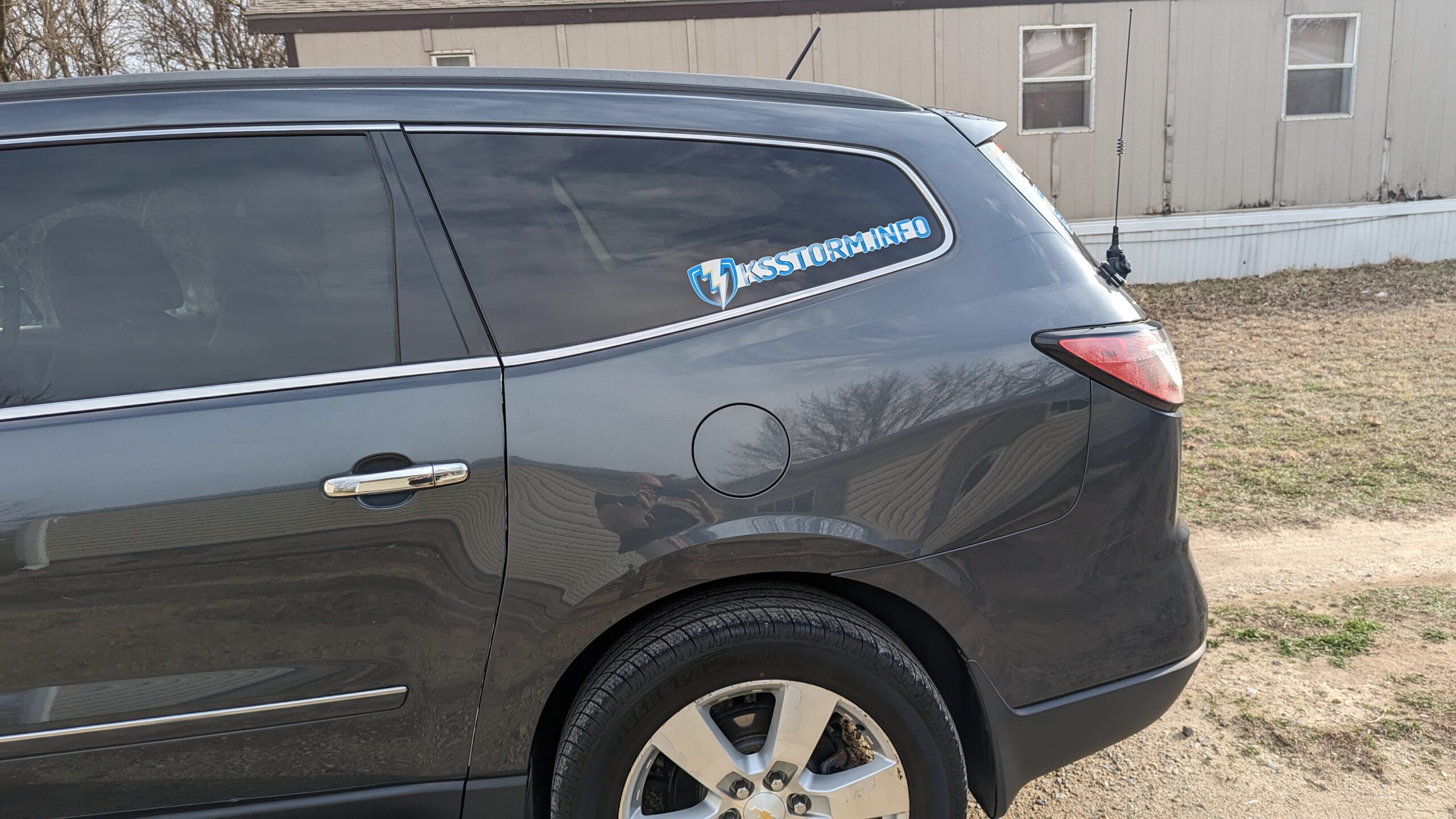 I do hope those capture a little attention from time to time, to draw people right here to KSStorm.Info.
The exception to the subtle approach is the back end of the car. I do more to make the back end as bright and/or reflective as I can. Because we spend a lot of time parked near roads, I've chosen to do this for safety reasons. All the tail lights (red, yellow and white) have been replaced with the brightest LED lamps I could locate, the brake lights do a triple-flash when they come on, and I have reflective striping on the lift gate (as well as on the road-side of the left hand doors, so if the door is open red and white reflective shows to the rear).
The bright yellow/blue alternating reflective is meant to evoke the impression of a medically-capable responder. I was trained as an EMT in the mid-90's, but did not keep my certification after moving back home in 1998. So I don't claim to be a medical professional. Yet I do carry more than a little first aid equipment in the car, and in case of a disaster I would try to provide limited triage, first aid, and personal accountability for a neighborhood or other fairly small area until the professionals arrived and there was a place for people to go of a more official nature.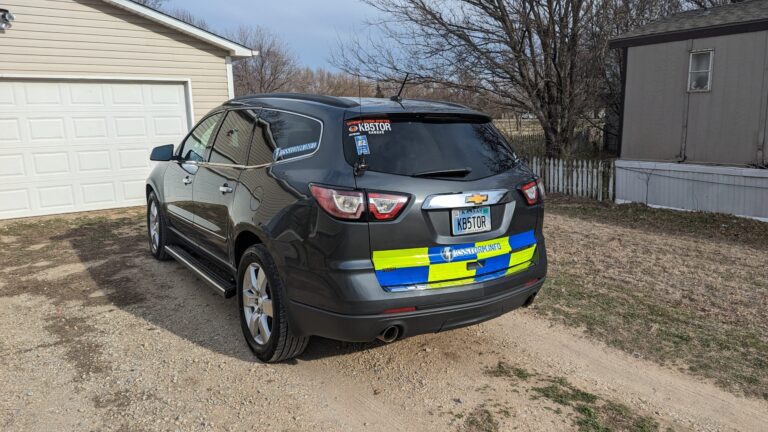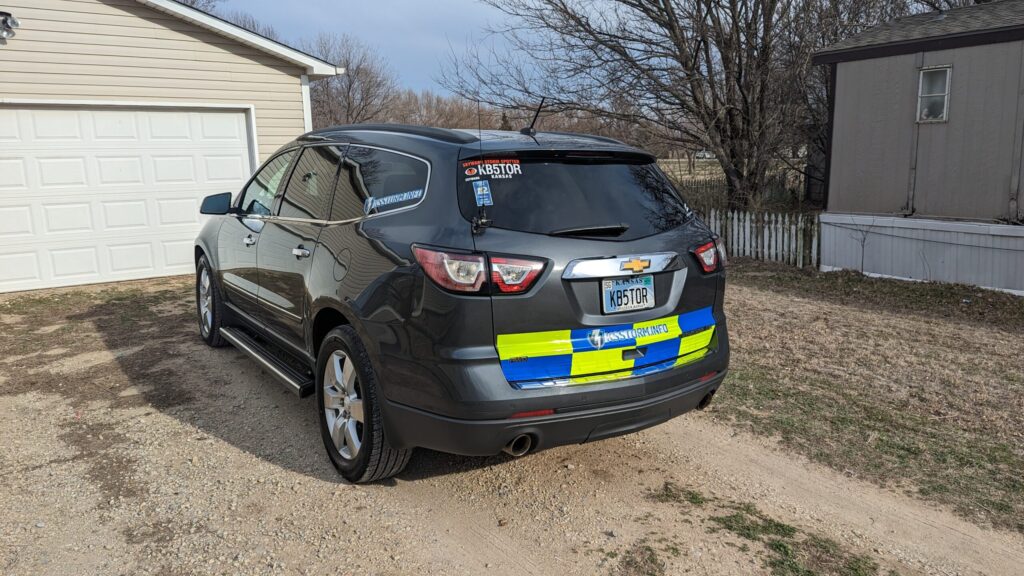 Chasing Equipment Load-Out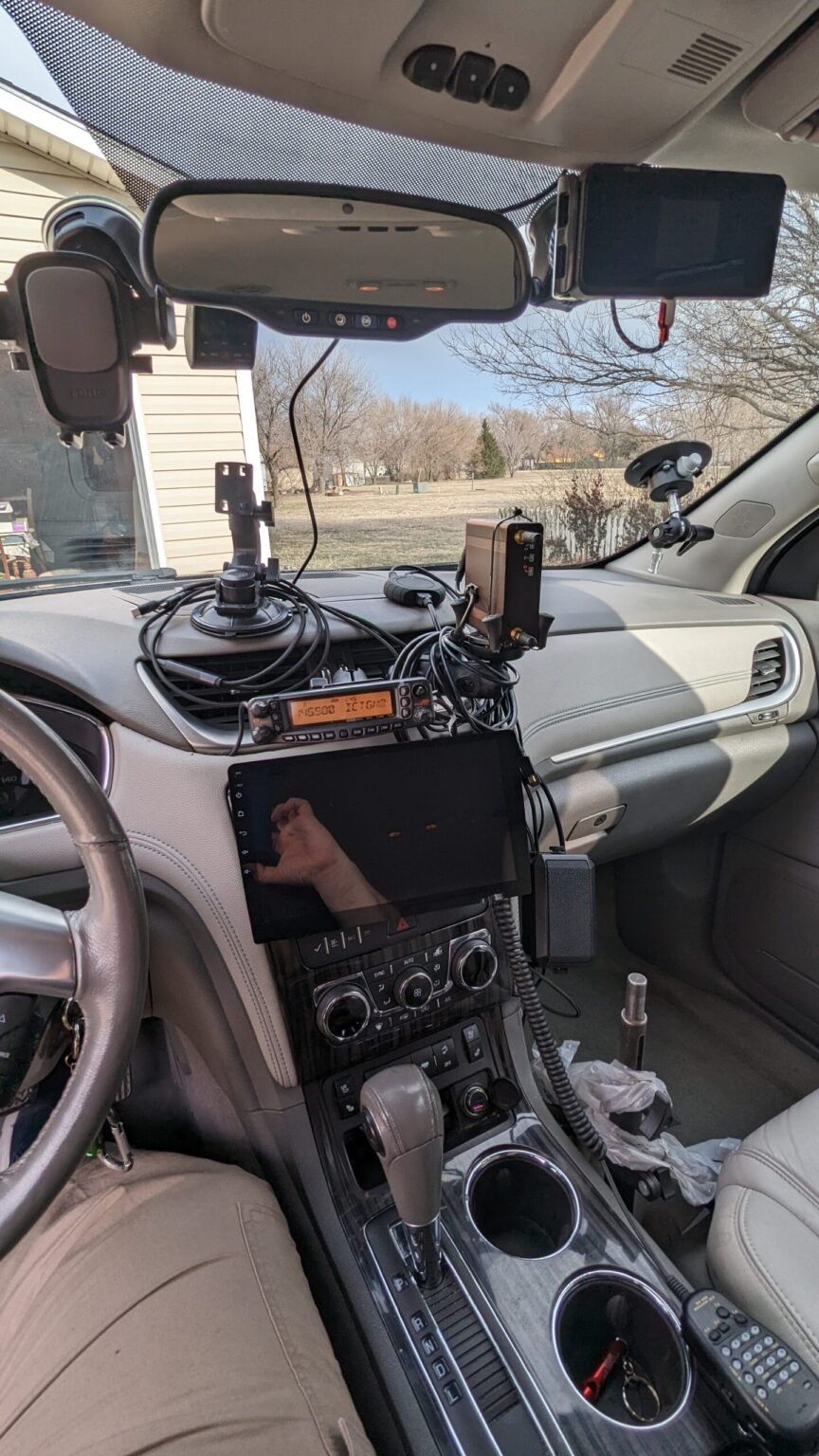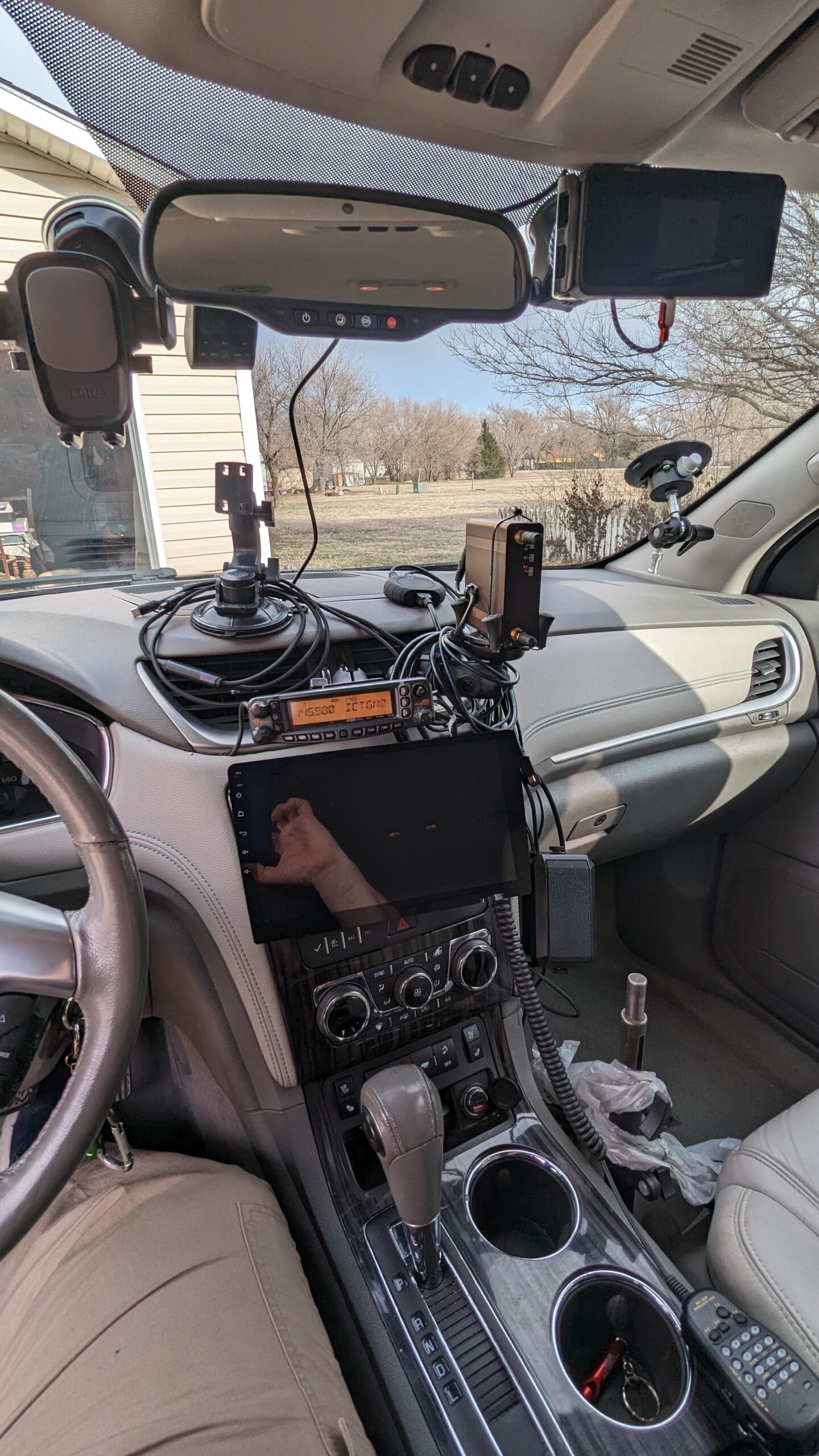 I'll list the stuff first, then give you a video that describes how it is placed throughout the car. Most is in the center column.
Verizon MiFi Cellular hotspot
2 Cell Phones for me, plus whatever anyone else brings
Galaxy S7+ tablet (radar & NWS Chat, mostly for driver)
Android radio, 11′ diagonal screen (more radar, gMaps for driver)
Laptop PC on mounted floor stand (radar, chat, etc for me)
Amateur Radio
Streaming Box (wired to camera, wi-fi to the hotspot)
Video camera (records and sends main stream)
Front (4k) and rear (1080p) dash camera
Atlas and Gazetteer paper maps for Kansas, Oklahoma, Nebraska
Safety, Auto, Helping Equipment
Here's the full list
Auto
Fluids
Tow Rope
Jumper Cables
Small tool set
Medical
Gauze bandages and stretch wrappings (2 bags, 50-100 each)
Protective masks
Nitrile gloves
Mylar rescue blankets (about 25)
Visibility
Flares (LED)
Chem Lights
Flash Lights
Work Area Lights
Reflective Safety Vests
Light SAR / Accountability
Gas Meter Shutoff (CERT bag)
Hard hat (CERT Bag)
Hammer and Pry Bar
Triage tape/Tags (CERT Bag)
Sharpies and Whiteboard
The question comes up:
Do you take riders when you chase?
The answer is YES in certain circumstances.
I try to have an experienced driver every time I go out. This means they have many miles of general adverse weather driving and/or they have Emergency vehicle Operator certification or similar, and that I am confident they can be 100% responsible for the driving and roadside safety of the vehicle and occupants.
That leaves room for two others in the car. I will take one to two riders at a time (only one if they are inexperienced). On the days we anticipate we'll be in challenging weather, I won't take inexperienced folks, only those with whom I have been out multiple times and am confident they will remain calm if the situation gets stressful.
On the truly big days, I recruit from a pool of people with Firefighter, EMS/Nursing, Law Enforcement, and/or other response training. I don't want to get into another Greensburg situation and not have a carload of people who can provide real, meaningful help in the moments after the strike and who don't have a sense for when we've done our part and it's time to get out of the way.
As an example, I had a rider planned to go with us on April 29th, Andover Day. But when the models that morning predicted almost exactly what happened, I told the person the risk level was too high for them to go. Which, since it was close to Wichita, was fine by them so they could stay at home with family.