After chasing with Scott for nearly 15 years, I can confidently say there are few days that test our mettle. When we go out, we have a sense of how the day could play out and prepare ourselves for bad a particular setup could be. But it always seems there is that one day each year that will leave you guessing right to the end.
Friday, April 29, 2022 was that day.
Even though our day started slow, by the time it was over, we would need every bit of the 40-plus years of storm chasing experience we had in the vehicle.
Rare is it that Scott and I have a third chaser in the vehicle with us, but for this day, we were joined by fellow KWCH chaser Lance Ferguson. Lance's intuition is what makes him a great chaser and it came to the forefront in spades on this evening.
The Morning Of…
Most chase days start off with an initial conversation between Scott and me around 9 am, to discuss the morning outlook, check on how the computer models are handling the environment, and where our initial target might be. Most of Eastern Kansas was placed in an Enhanced (level 3 out of 5) risk for severe weather, with the potential for strong tornadoes, especially east of the Kansas Turnpike.
The modeling indicated there would be storms in northern Kansas, which was a slam dunk. But, there was just enough of a cap (layer of warm air above the surface) that limited the coverage of storms. Still. we knew if one or two supercells developed and moved through southern Kansas, they would be capable of strong tornadoes. The obvious play was for us to stay close to home and track anything that developed in southern Kansas.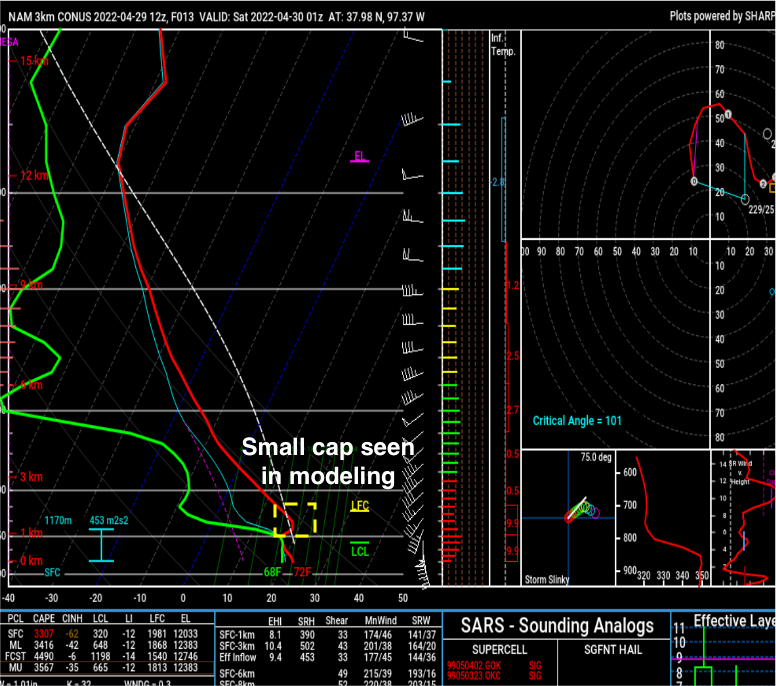 The Afternoon…
The atmosphere continued to bubble and simmer under the strong April sun, aided by a stout south wind. Scott, Lance, and I would meet up around 3:45 that afternoon, shortly after the tornado watch was issued for all of eastern Kansas. It wasn't long until storms started to develop near Newton, but we made the decision early on not to get out of position and let the chase crowds handle that area.
We sat in a parking lot west of Derby and watch the atmosphere percolate, hit the capping inversion, and the clouds come fall apart. This agonizing process went on for what felt like forever but was really about two hours. In that time, we shifted positions from east of Derby to northeast of Wichita to Park City, and the atmosphere remained steady state, while the main show was happening to our north.
It wasn't until we stopped in Park City around 5:45 and looked to the southwest when Lance and I noticed a persistent area of towering cumulus clouds and some grunge on radar that wasn't moving. Our interest was piqued, but we were unsure if one had anything to do with the other. We also noted some development to our north around the Sedgwick/Harvey county line and we made a move to check out the storm
The Chase is On…
Around 7 that evening, we intercepted the storm around Furley in northeast Sedgwick County. It's our experience that the first storm of the day will tell you a story about the state of the atmosphere. This storm told us a lot.
We went through some nickel to quarter-size hail in the core of the storm, and when we pulled over to look at the base of the storm, we were surprised to see a weak rotating wall cloud to our southwest.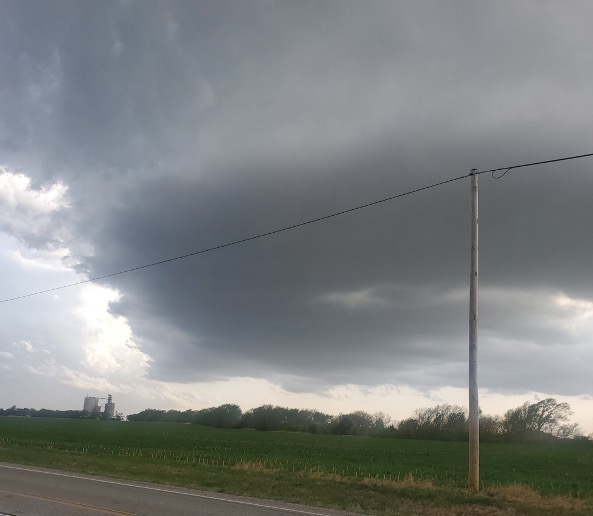 The storm weakened as it moved overhead, but it was a sign that a storm could produce in this environment. Again, Lance's intuition convinced us to continue south on Butler Road to the strengthening storm in eastern Sedgwick County. As we moved south, we entered the front lip of the storm and noticed crisp towers in the forward flank of the storm, indicating to us the storm was very strong.
We went through Andover, and while going through town, had a chance encounter with some Andover police officers to tell them about the incoming storm. It was just before 8 pm when we arrived at Andover Road and Southwest 140th road, roughly 3 miles south of Andover. As we sit on the dirt road, we notice that the storm does not appear to have a wall cloud at all, but there was broad rotation to our west. Another thing we noticed was the presence of a shear funnel to our north, which is indicative of the atmosphere in the lowest heights of the atmosphere being ready to spin.
Once we reported the shear funnel, a tornado warning was issued for our storm. Almost as soon as we turned our heads back down the dirt road (looking west) when we noticed a dust swirl just to the right of the road. It was rotating and there was an elevated funnel, indicating we indeed had a tornado. This happened in the span of just 40 seconds.
From there, we documented it as the tornado moved from our west to our northeast.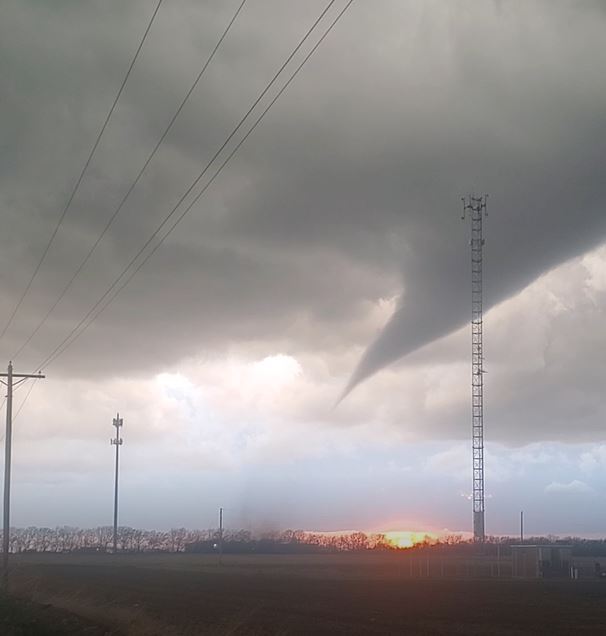 We tried to keep up with the tornado, however, we wanted to avoid the emergency response ongoing in town. We finally broke off the chase at Santa Fe Lake Road and US 54 to go back and attempt to render aid in Andover. Thankfully, because of the quick response by emergency crews, our help was not needed.