Miles: 455
Time: 12 hours, 11 minutes
Ground Truth reports: 3 to NWS Dodge City
Tornadoes: none observed
Severe Hail: none observed
Severe Wind: none observed
This was a day that never lived up to the hype going in. Starting with an Enhanced risk for severe storms, a 10% tornado probability with potential for strong tornadoes, and a 30% probability of hail, some of it very large, the day under-performed in nearly every way. Except in northwest Kansas.
Which we, honestly, had neglected to even consider. We'd been focused on the southern area, centered around Dodge City with the potential for storms to move east into the Wichita metro. While most of the chaser community dumped Kansas for what appeared to be the primary tornado risk in the Oklahoma City vicinity.
The biggest frustration of the day wasn't the storms, though. We were befuddled for a time, during the round of storms after 4pm, why NWS Dodge City was not issuing warnings even after getting reliable spotter reports of severe weather (we were aware at the time of three reports). In fact, social media posts would tend to indicate the office was quite proud that they went through the entire storm sequence and issued zero warnings of any type. A look at the unofficial SPC page of Local Storm Reports indicates NWS Dodge City did not record the reports, as the only report listed is a landspout reports in Grant county.
Here's the reports as listed in the NWSChat archive. Only the last one is recorded in the SPC report. We did not see the last 3, as we had shut down once we headed for home.
[19:14:48] Spotter on US 56 1W
of Gray/Ford Co Line reports wall cloud, poss funnel to the SW (SE Gray Co). He
is 15 mi NE (SN- "Jon Alan")

[20:59:59] DDC: Not
Confirmed/Preliminary Spotter Report — from Jason Weingart (via
spotternetwork.org) @ 20:59 UTC — (S) Tor — — Spotter is 4 miles ENE of
BEELER, KS (Ness county) [38.450/-100.125] — Brief weak spinup 2 miles to my
south Has lifted (SN#56534)

[21:05:28] <media-tony.laubach@nwschat.weather.gov/NWSChatLive_174.210.169.14_182716>
Estimated 60MPH winds on that tiny little cell on K-96 at Beeler, KS. Had some
pea-to-dime sized hail briefly in there as well.

[23:54:04] DDC: Not
Confirmed/Preliminary Spotter Report — from Ethan Johnson (via
spotternetwork.org) @ 23:54 UTC — Rotating Wall Cloud — — Spotter is 2 miles
E of RANSOM, KS (Ness county) [38.636/-99.899] — Rapidly rotating Wallcloud
with brief funnels 5 miles west of Ransom (SN#56565)

[00:54:08] DDC: Not
Confirmed/Preliminary Spotter Report — from David Oxley (via
spotternetwork.org) @ 00:54 UTC — Rotating Wall Cloud — — Spotter is 1 miles
SSE of COLLYER, KS ( county) [39.021/-100.112] — Rotating wall cloud
approximately 4.5 miles to my southwest (SN#56585)

[01:17:56] Local Storm Report
by NWS DDC: 5 N Ryus [Grant Co, KS] public reports TORNADO at 07:51 PM CDT — a
couple of brief landspouts were reported around 5 miles west of sublette and
just north of highway 160, around 7:50 to 7:53. each one lasted a couple of
minutes. location estimated based on radar and described visual.

— NWS Chat log, accessed via NWS Chat website at 7am 2023-05-12
We found that quite puzzling, as in our minds the spotter reports should have triggered the "two-of-three" rule for issuing warnings, which we assumed the office was operating under. First factor, to us: the enhanced risk area, high-end hail possibility, and a number of forecast parameters that indicated rotating, damaging storms were possible. Factor two, the radar presentation — this was a gimme in the Dodge City forecast area, as there was never a storm that looked on radar like it could be producing damage. Any rotation was wide and loosely correlated, in fact most of what we saw was more downburst-y in nature, a pocket of air moving in the opposite direction of the rest of the surrounding air. Factor three: spotter reports, in our opinion, was clearly met.
But it's not our opinion that counts, it's the opinion of the NWS Warning Forecaster. And when we mentally reviewed the discussion throughout the event on NWS Chat, we realized the office had indicated their evaluation that the atmosphere was not showing the needed volatility. That shifted the two-of-three balance, making the spotter reports the outlier. Which would lead to the decision not to warn.
Still, I'd hope the office offers an explanation, because in the moment it sure looked like the warning forecasters were ignoring spotter reports, which would likely discourage the spotters from making future reports because they were apparently not valued. So as with Tuesday's event the decisions ultimately proved correct, I feel NWS Dodge City should disclose their thinking process to reassure spotters the information they provide is valuable, even if it doesn't lead to a decision to warn.
<end soapbox mode>
Let's look at some cool photos
The development of this system left us able to capture some images that are rare for us because of how we chase. We were able to capture the deep blue sky with the clouds lit from over our shoulder with bright sunshine, rather than shooting through the clouds to any sunshine on the back. It's a rare treat for us.
These shots are from just south of Wright, KS around 4pm. Click or tap the photo for the full-size view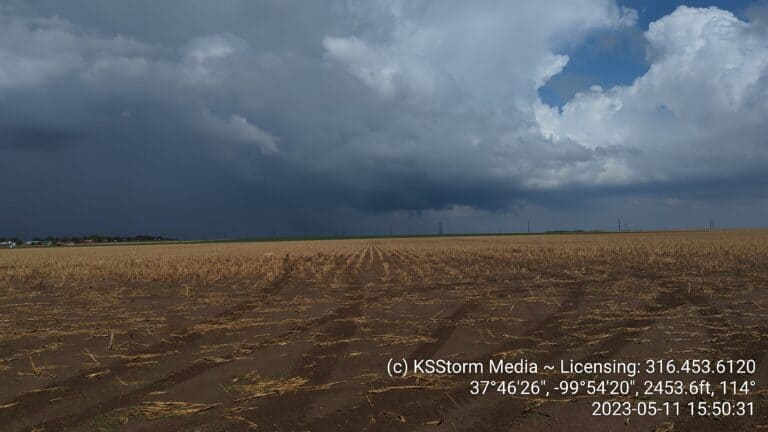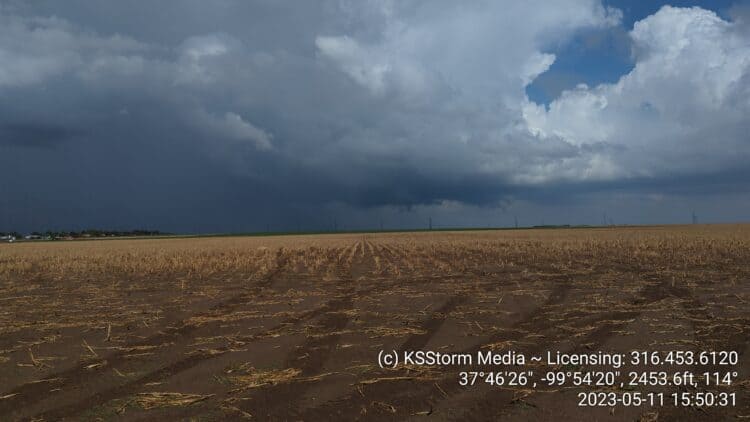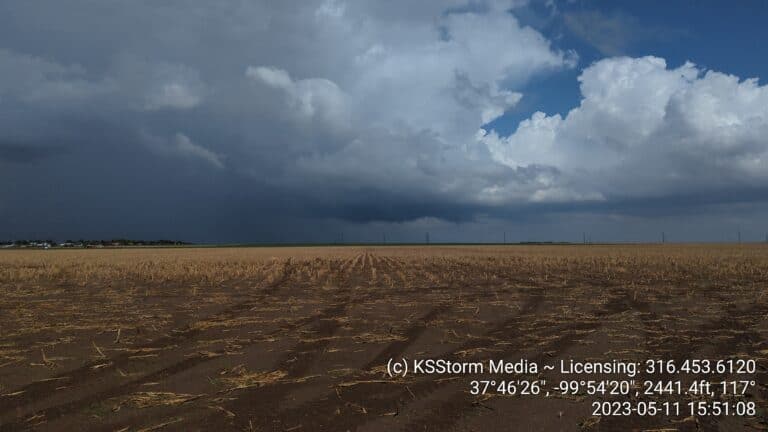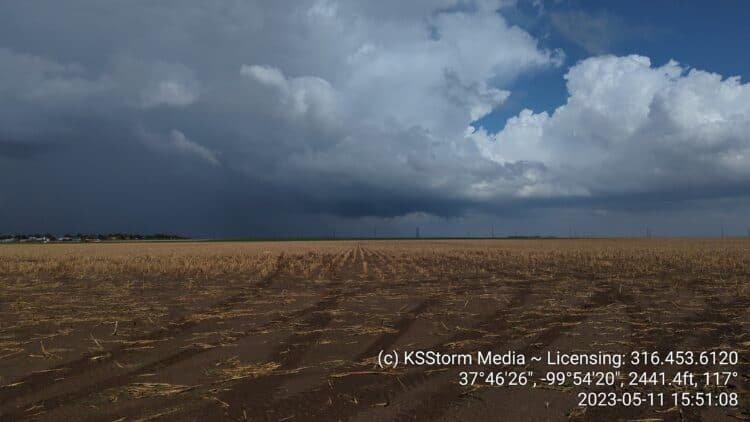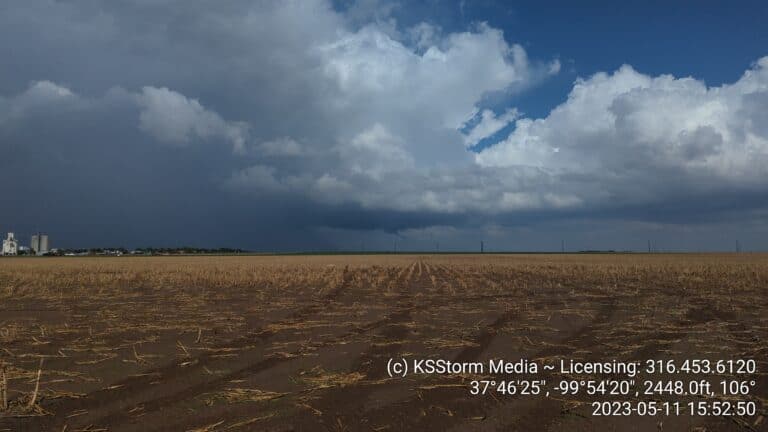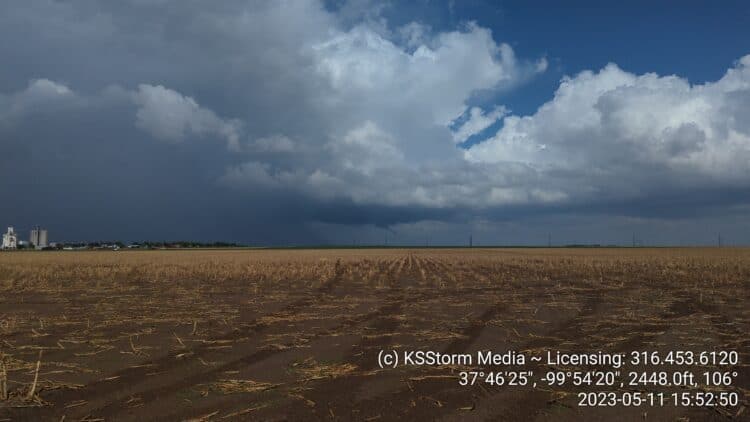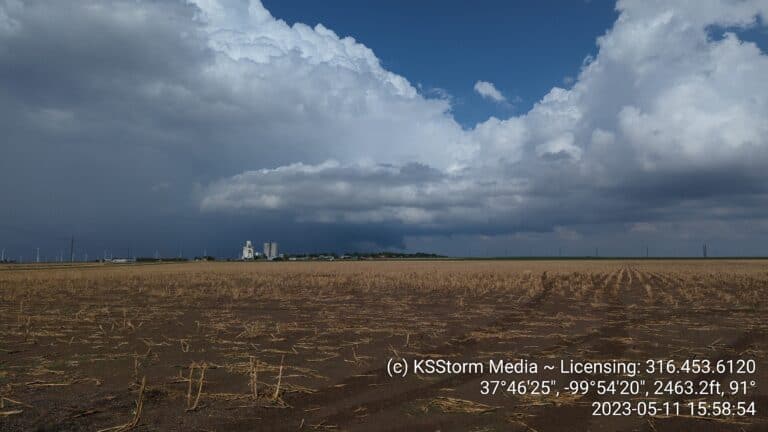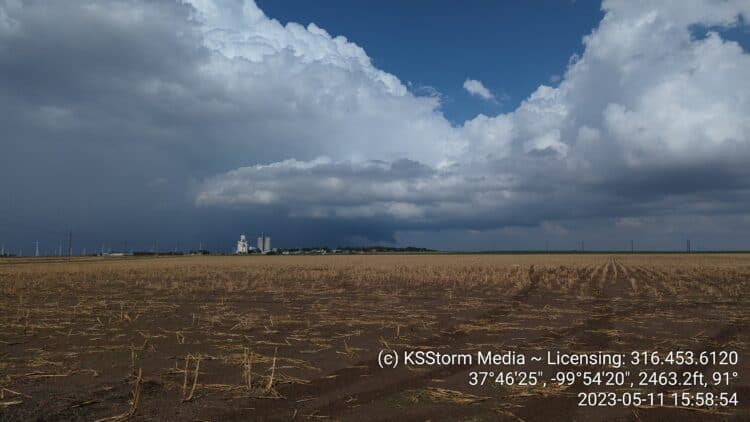 We followed this cell until it passed into western Pawnee county, we were 10 miles or so north and a little east of Offerle.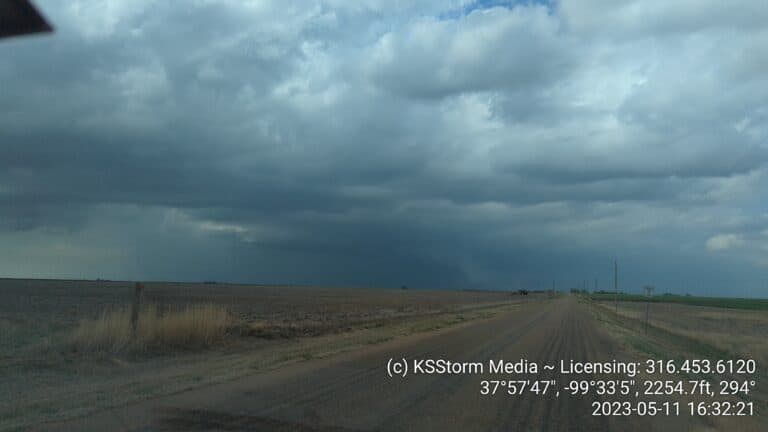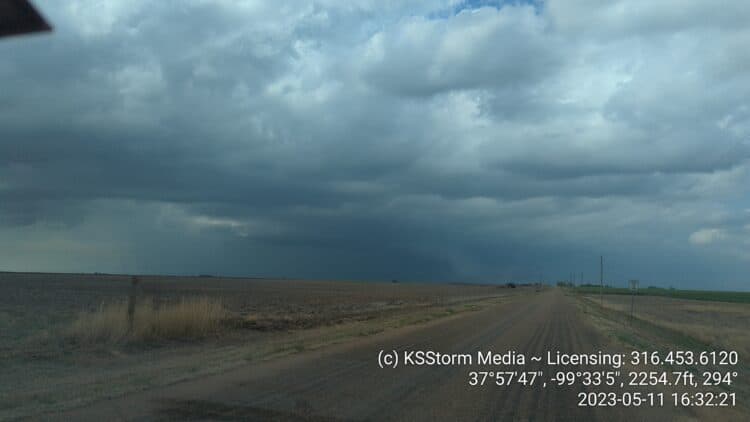 Then we reset back to the Dodge City vicinity, as the dry line was just hanging out southwest of Dodge and we wanted to wait until it got on the move before making a decision to end the day or continue chasing.
We ended up near Windthorst (a place I've not been since I was a child and attended my great-grandmother's funeral) with a beautiful puffy cell that looked great during the 6pm news live stream and continued to look nice until it died off and we headed for home.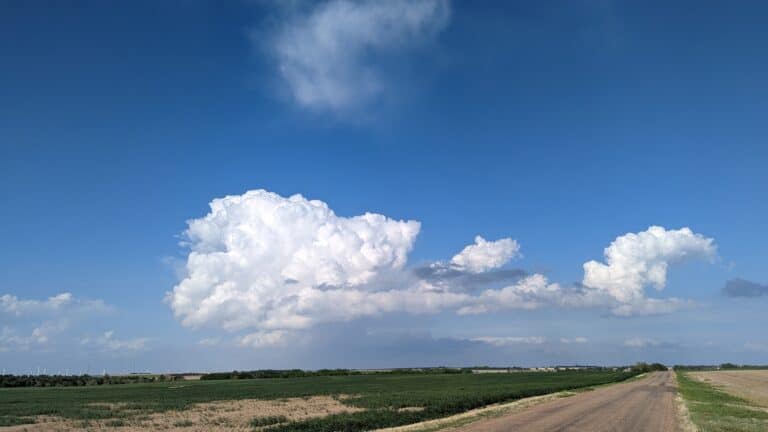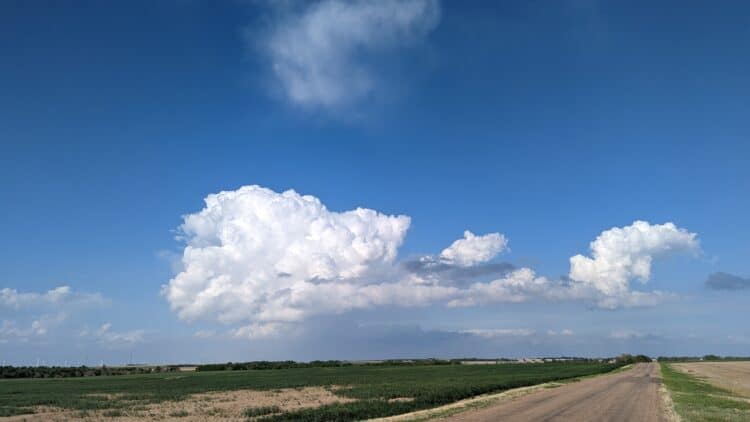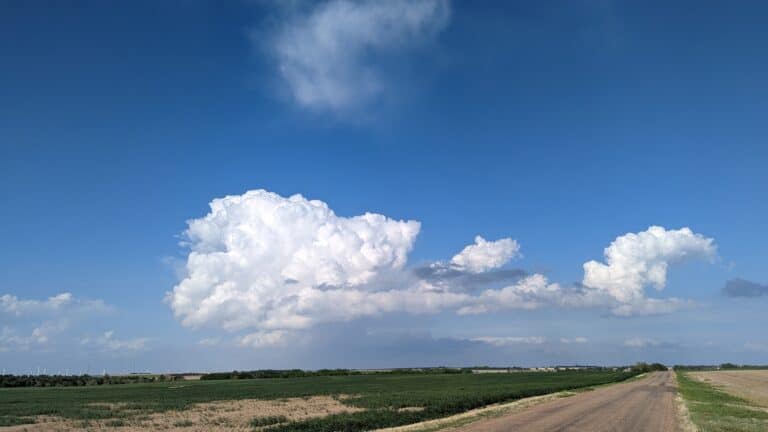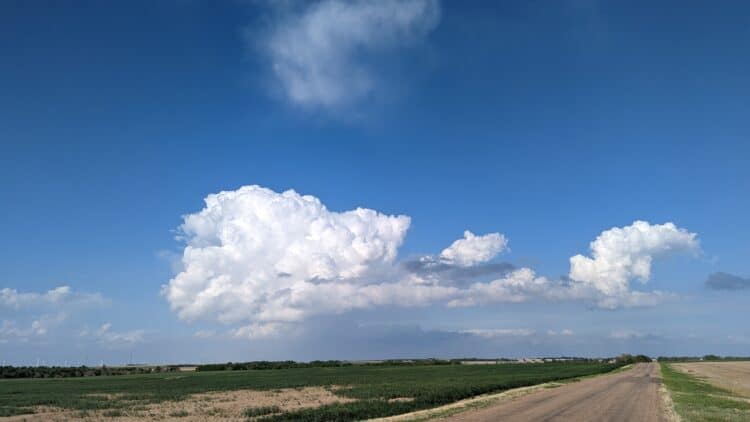 All in all, a pleasant, low-intensity trip on a day we had expected to be quite active.