What Emergencies Should I Plan For?
It is important to consider a variety of natural disasters and everyday emergencies when planning for your pets. Emergencies are more common than you might think and can happen anytime, anywhere (and without warning). Be sure your family is prepared for a variety of emergencies:
Fires
Hurricanes
Earthquakes
Tornadoes
Floods
Violent Storm
And more!
It is important to consider how you will not only protect your family, but also your pets in these situations. Leaving them out of your plan can put your pets, your family, and first responders in danger.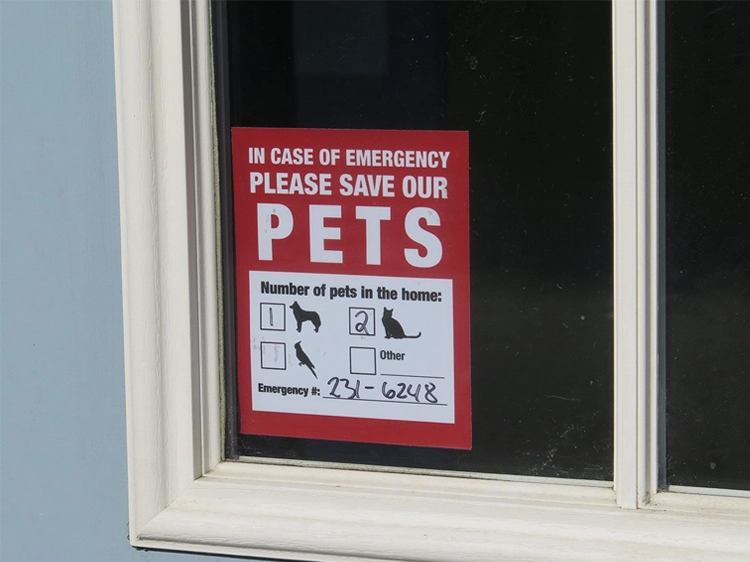 Pet Disaster Preparedness Kit
Prepare a disaster kit for your pet(s) with these items. Ask your veterinarian for help putting it together.
Documents
Photocopied veterinary records

Rabies certificate
Vaccinations
Medical summary
Prescriptions for medications
Most recent heartworm test result (dogs)
Most recent FeLV/FIV test result (cats)

Photocopied registration information (ex: proof of ownership or adoption records)
Pet description(s) (ex: breed, sex, color, weight)
Recent photographs of each of your pets
Waterproof container for documents
Microchip information (ex: microchip number, name and number of the microchip company)
Your contact information (phone numbers and addresses for your family and friends or relatives you may be staying with)
Water, Food, Medications
2-week supply of food for each animal stored in waterproof containers
2-week supply of water for each animal
Non-spill food and water dishes
Manual can opener
Feeding instructions for each animal
2-week supply of any medications (if applicable)
Medication instructions (if applicable)
1-month supply of flea, tick, and heartworm preventative
Other Supplies
Leash, collar with ID, and harness
Litter and litterbox (cats)
Toys
Appropriate-sized pet carrier with bedding, blanket, or towel
Pet first aid book and first aid kit
Cleaning supplies for accidents (paper towels, plastic bags, disinfectant)
(Source: CDC.gov)
Pet Emergency Preparedness: Not only Storms!
Additional Info/Resources:
Butler County Animal Response Team website | Butler County Animal Response Team Facebook