As we sit here in single-digit temperatures with snow flurries and wind chills below zero, our thoughts turn to warmer days to come and the chances of thunderstorms that come with them!
While every year is pretty much a crap-shoot on trying to guess how busy a severe weather season might be, that doesn't keep us from looking at certain indicators to try and plan for the season. Here are a few things forecasters look at when trying to predict.
Persistence: Believe it or not, persistence forecasting beats human forecasters about half of the time. Persistence forecasting simply says that whatever it is in the past is what it will be in the future. Going simply by this, we have had some pretty dud years for severe weather, so that would dictate that this one could be equally as slow.
Overdue: A much less reliable but somewhat statistically based method is to say, "we have been X number of years without, we are overdue for a change." In this case, it would be a fairly busy year, but again, more of a gut feeling than real science. I have been saying that we are overdue for a blizzard since the mid-90s and we still haven't had one since the late 80s.
Climate models: Since weather forecasting models only look out a few days to weeks, we turn to a different kind of model, one that tries to predict long-range anomalies over longer periods of times from months to seasons. The Climate Prediction Center (CPC) is the governmental agency in charge of running this kind of a model and their "official" forecast for the spring is for above normal temperatures and below normal precipitation. This doesn't bode well for severe weather. In fact, it looks like a "dryline in western Missouri" kind of year when that happens.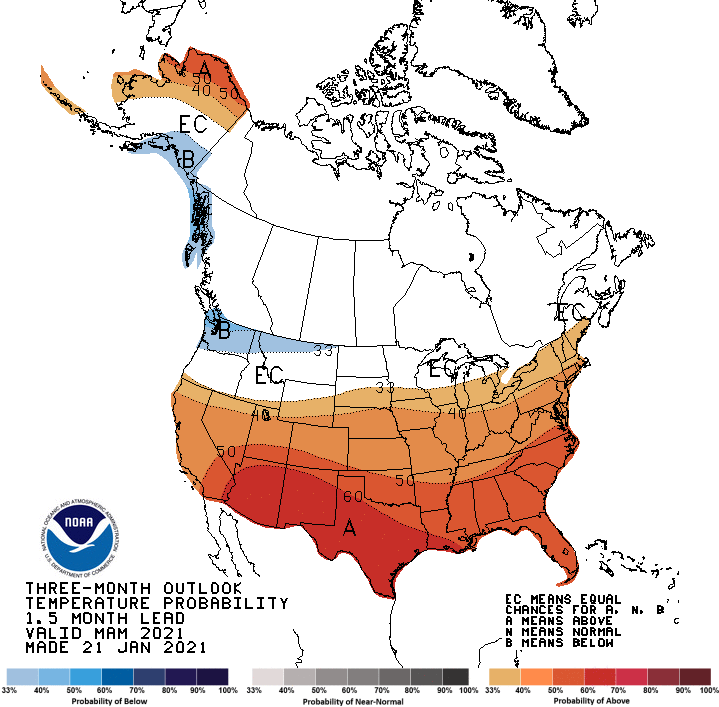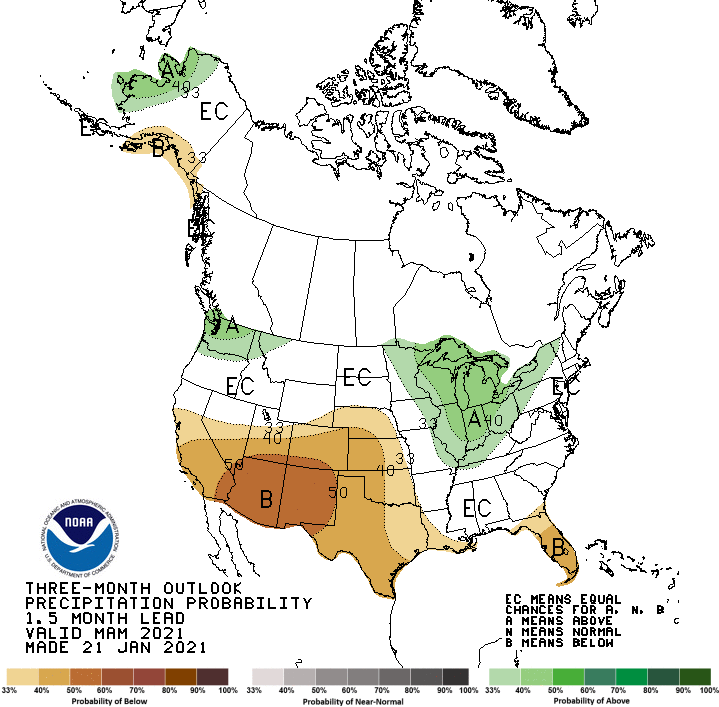 Soil moisture: The one thing heavily weighing against the CPC is that we have had an unusually wet winter and soil moisture is adequate to surplus in the southeast half of Kansas and across much of Oklahoma. However, drought isn't far away as the northwest half of Kansas and some of western Oklahoma are already in drought and we know that drought can develop and spread pretty quickly in the spring. That said, a wet ground is a "greased" ground, making it easier for moisture from the Gulf of Mexico to get far enough north and west to keep the dryline from southwest Kansas through central Oklahoma.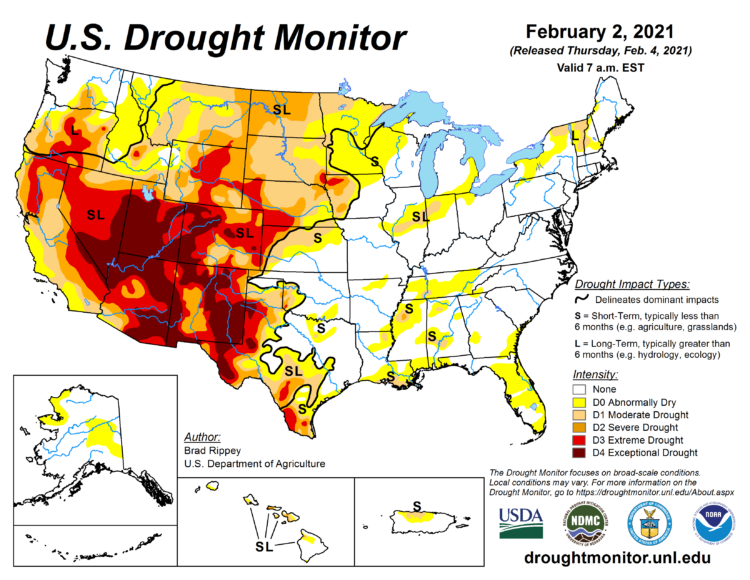 Gut feeling: Although it may sound silly to include this in a serious discussion about weather forecasting, the truth of the matter is, the longer a person is in a given location, the better forecaster they become because of this "gut feeling" factor. That is why some of the best forecasters in Kansas are old farmers! Everyone's gut feeling may be different, but since I am writing this article (ha!), you get to hear what my 53 years of forecasting the weather in the same location leads me to believe. My gut feeling is telling me that it will be another below-normal year for severe weather in the central and southern Plains but that there will be several good outbreaks, especially early and late in the season. I think the middle of the season, when we are "supposed" to get all of the severe weather could see several weeks without much watch or warning activity.
So, take it for what it is worth! If you ask 100 different forecasters you will get 100 different answers (unless you are talking to a pure model chaser, but that is a blog for another day). Living where we do with the history we have, it is never a good idea to arrive at the storm season unprepared for the worst!