We're still 4-6 days out from an event that has been shown on models for a week already. Given that kind of consistency, we're confident there will be severe weather in the plains next week. But differences between the two major model families (Euro and GFS) still paint a muddled picture of just where and when the most risk will be, and what the main risk is for each round of storms. We expect to have a clearer picture once the parent system comes ashore late this weekend, but the key takeaway is that it's time to get ready for severe weather season!
Monday, April 11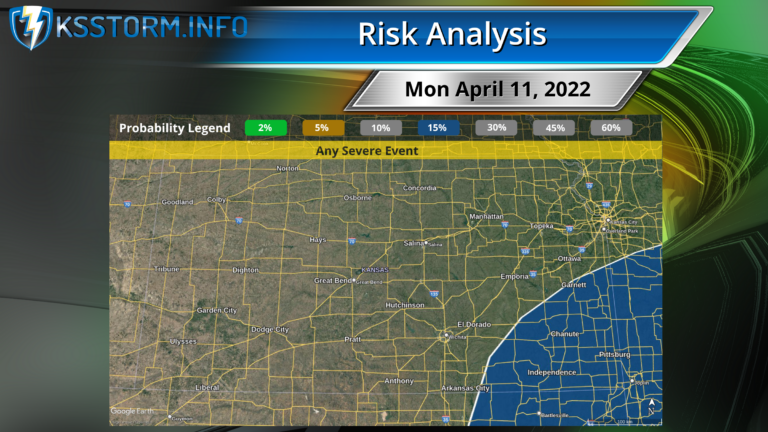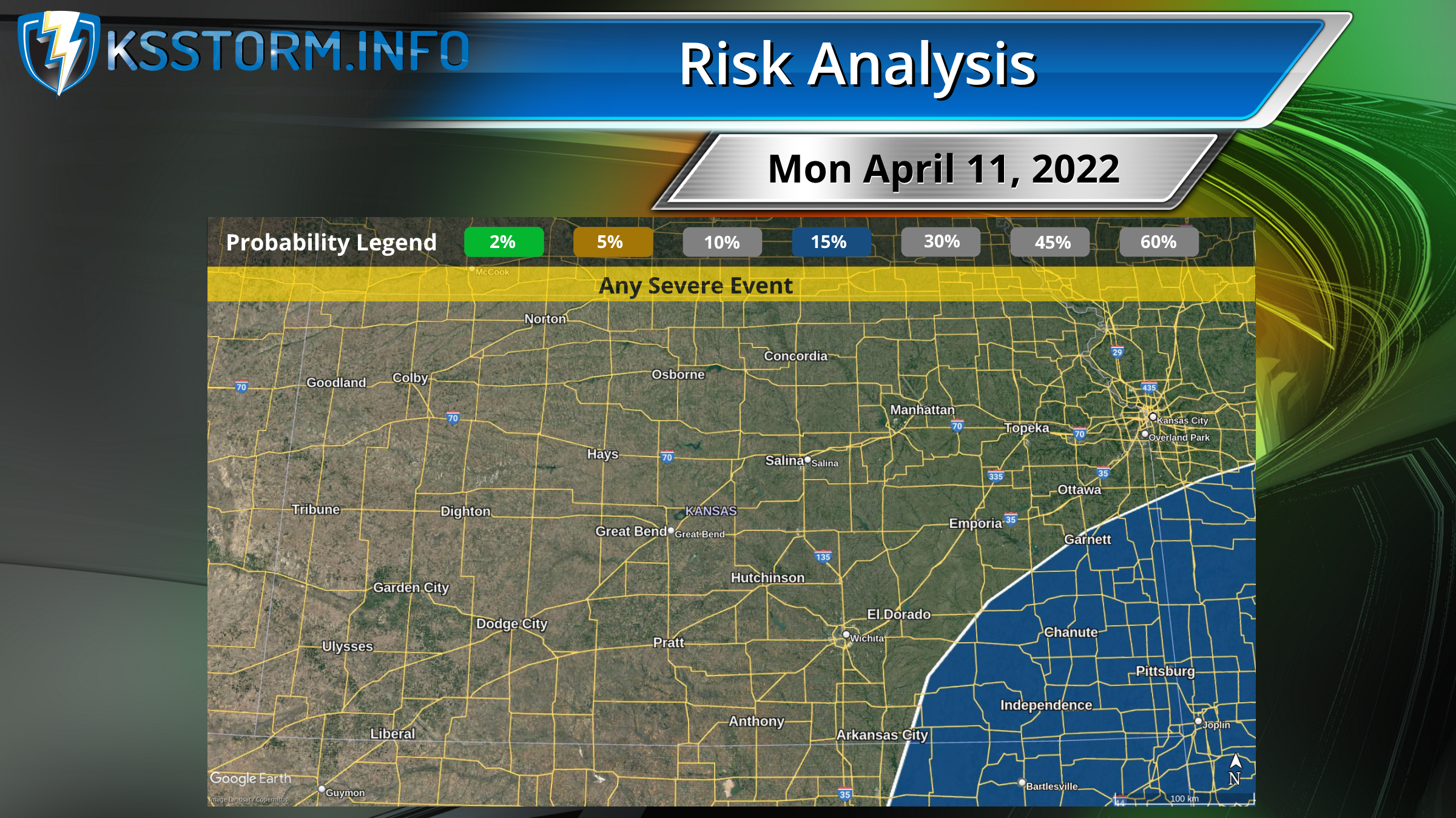 SPC
At least isolated severe thunderstorms should develop by Monday afternoon along and east of a surface dryline which should extend across central OK/TX, as modest ascent preceding the upper trough overspreads the warm sector. Moderate to strong instability and steep mid-level lapse rates combined with adequate deep-layer shear suggest a threat for large hail with any supercells that can develop. Damaging winds may also occur. Given the gradually increasing low-level moisture and strengthening low-level jet Monday evening, some threat for tornadoes should also exist as convection spreads eastward.
Key takeaway
Storms would move into southeast Kansas from Oklahoma. Hail would be the main risk.
Tuesday, April 12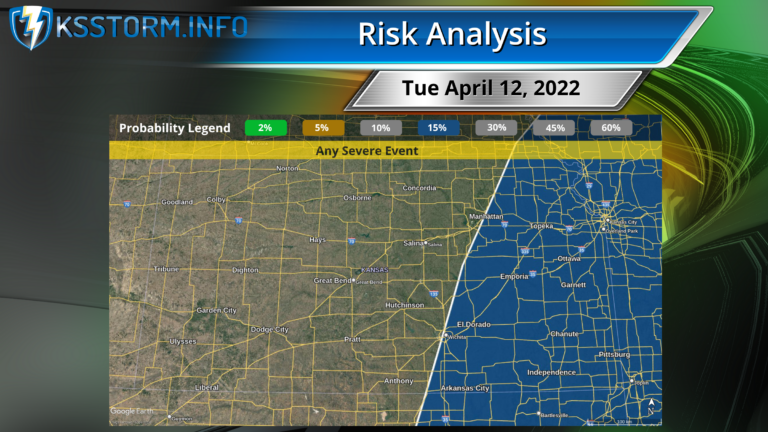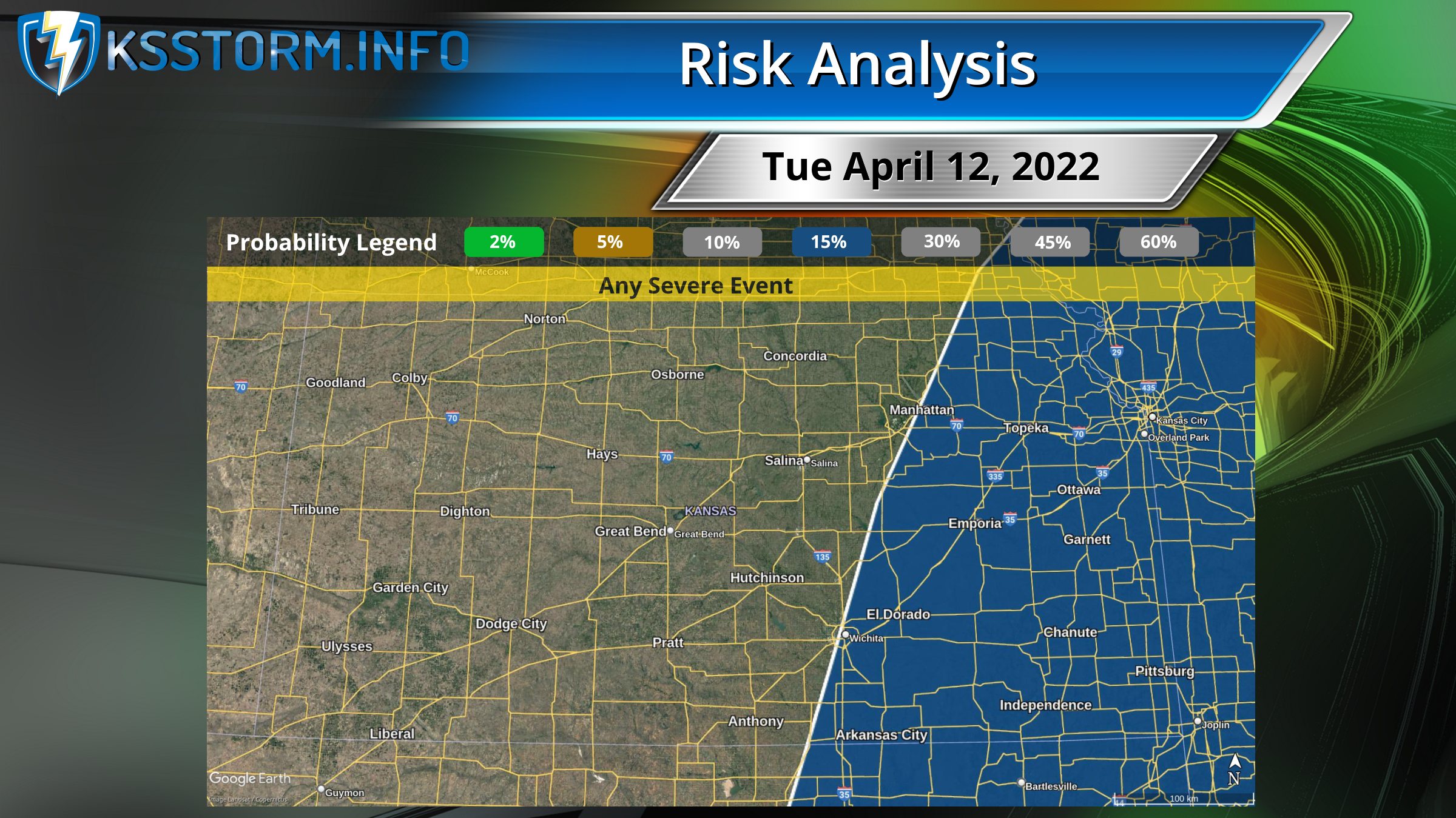 SPC
Severe thunderstorms will likely develop by Tuesday afternoon along much of the length of the dryline  across the southern/central Plains. The presence of steep lapse rates aloft, diurnal heating of a moist low-level airmass, and gradually strengthening deep-layer shear should support a mix of multicells and supercells capable of producing large hail, damaging winds, and tornadoes through Tuesday evening.
Our analysis: Models still are in two camps regarding this powerful upper wave. Euro is slower, stronger, and more to the south, concentrating severe risk in Oklahoma in the overnight hours into Wednesday morning. The GFS is faster and further north with the parent low, which would bring risk for a squall line and a few embedded tornadoes to eastern Kansas, generally east of I-135. Some supercells would be possible as well.
Key takeaways
Severe weather is fairly likely. Mode, timing and location are still in question.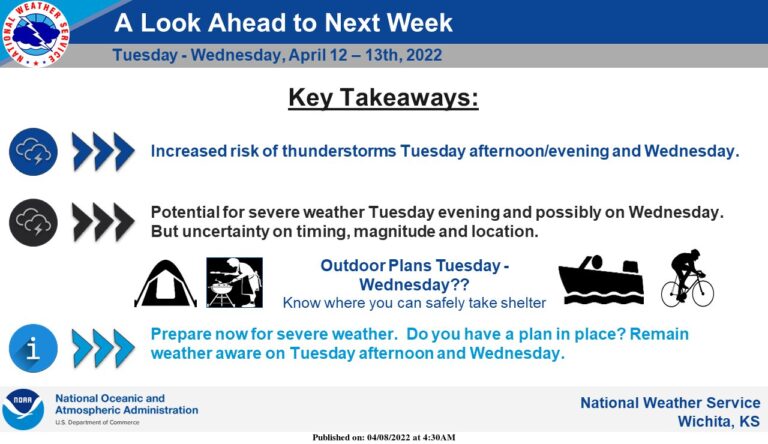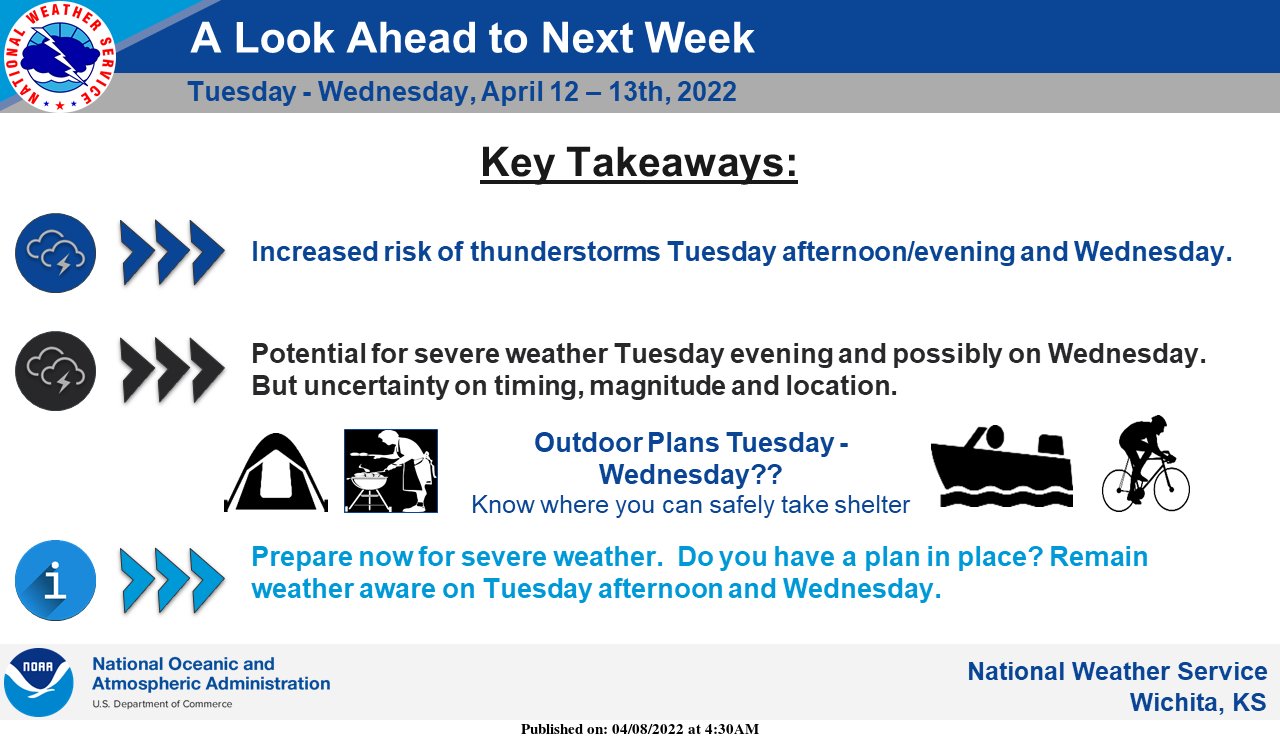 Wednesday, April 13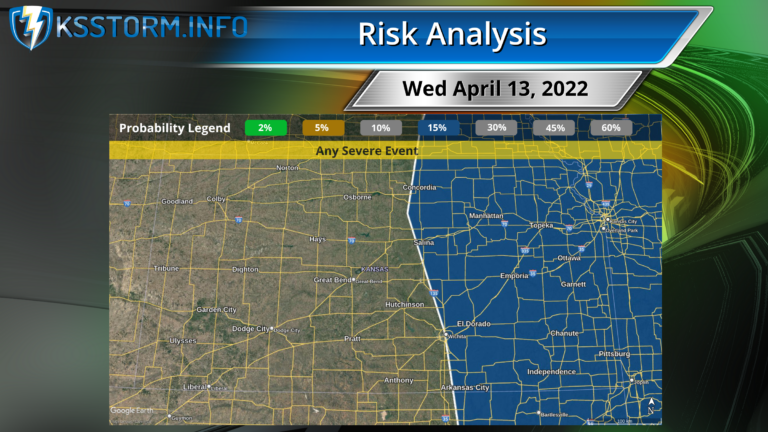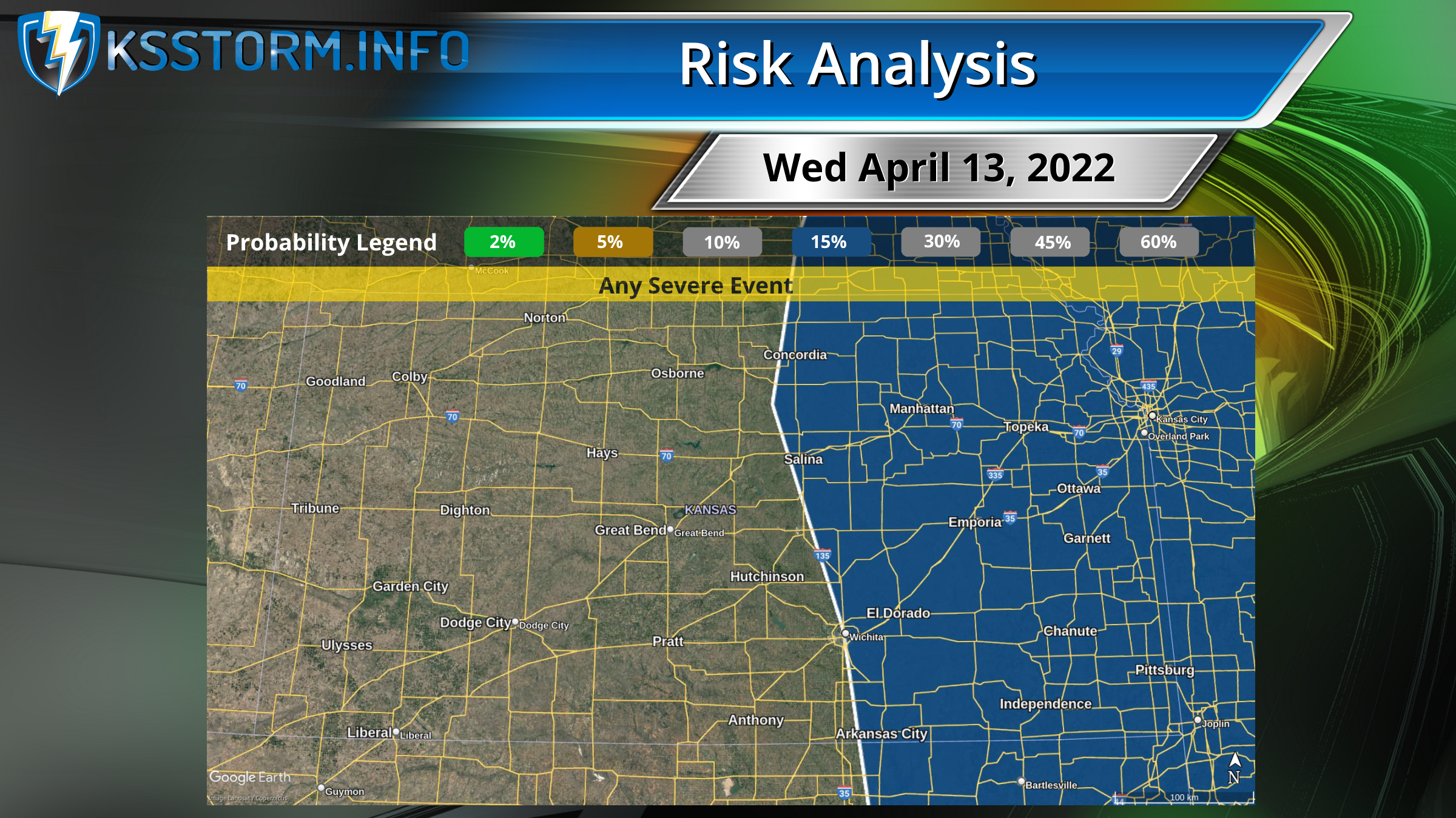 SPC
Large differences exist in model guidance by Day 6/Wednesday with the placement of the upper trough/low ejecting across the Plains.
Our analysis: The exact path of the low will make all the difference in impacts for Kansas. The Euro scenario paints Wednesday as a high-impact day for central Kansas south into central Texas. This solution would have the highest risk for tornadoes on Wednesday. The GFS would push the low into northern Missouri and Illinois, dragging a squall line into the mid-Mississippi and western Tennessee River valleys, with an enhanced tornado threat south of Memphis into the Mid-South.
Key takeaways
Boom or bust, depending which model scenario plays out.
Other observations
Western Kansas: the system will contain a snow component, which could pull into the western few columns of counties Tuesday night into Wednesday. Otherwise ahead of the system we'll stay breezy and dry, enhancing grassland fire risk each afternoon.
Actions to take this weekend
Clean out/straighten up your shelter area
Refresh stored water or other dated items in your emergency/disaster kit
Review your important documents folder, so you know you have all the papers you need to prove identity and what you own. HOW TO: take a Home Inventory