Statistics show, the National Weather Service offices serving Kansas and Oklahoma are the highest-performing in the nation when it comes to accurate and timely forecasts of severe weather. Because of that, the offices frequently take part in experimental programs. Today we look at two of those programs, one which the area offices participated in during the 2013 storm season and started to be rolled out nationwide in 2014, the other which is still in the experimental phase but our area offices are being considered for the beta test phase when the research gets that far.

Impact-Based Warnings
There is evidence that people tend to under-react to weather warning information, mostly because it's not common to really have a good idea what the impact of a particular weather threat might be. Because of this, we often have incomplete or incorrect responses to the threat. The Kansas NWS offices participated in a pilot of the Impact Based Warning (IBW) system in 2013. What changed in these warnings?
Potential Storm Impacts are now included
The warnings also include response recommendations
Here's a sample: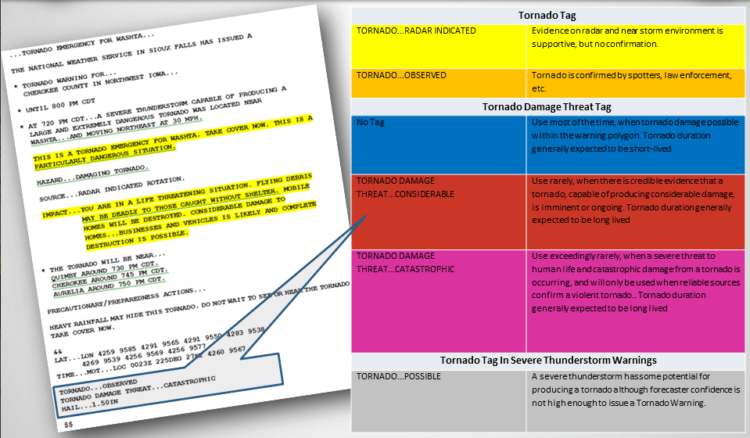 Let's break down the information and how it helps guide us to better preparedness.
The key impacts are listed in the tags at the end. This information may not be delivered in your cell phone app's warning text. But it is used by TV meteorologists and others who report on the warnings in real-time to guide how strong of a risk they will convey.
The key knowledge for you to pay attention to is the IMPACTS paragraph. The PRECAUTIONARY/PREPAREDNESS ACTIONS paragraph describes what you should do and what you should know.
Chance Hayes, the Warning Coordination Meteorologist at NWS Wichita, tells me he has heard form multiple people comments along the lines of "there was something different — stronger– about those warnings and I knew I needed to take action." The anecdotal reports are backed up by research since IBW was rolled out nationwide. Providing both sets of information together (impacts and actions to take) is shown to improve both perception and understanding of warning and intended behavioral responses. The research finds it's the recommended actions that change our perception of the warning severity, while actions and the impacts each have a measurable effect on whether we actually take the recommended action.
New for 2021: Special Weather Statements (which are used to communicate risks from storms that haven't achieved severity) and Warning Update Statements will now include this information. Previously the Impacts and Actions were only included in Warnings.
Warn-on-Forecast is a research program aimed to increase tornado, severe thunderstorm, and flash flood warning lead times. This is still early in its development and has only become possible due to the speed of today's supercomputers and the increased understanding of smaller-scale features in the atmosphere. In a nutshell, it's putting science and technology into something some people are able to do by gut instinct — forecast not only where a storm will go, but what it will be doing when it gets there.
Hayes tells me it will be combining frequent observations with radar data, merging in weather models that are run on an hourly or more frequent basis, and enabling a forecast to say as many as four hours ahead that a severe storm or tornado is likely to impact a specific community.
Who is it for? These warnings will not really be meant for individuals. Science has shown we've reached the limit of advanced warning, giving individuals around half an hour or so heads-up. This is because warnings further out than that tend to lead to complacency and warning fatigue — and let's be honest, when's the last time you spent over half an hour in the tornado shelter?
The longer lead times are crucial for
hospitals; to switch on generators, move patients form exterior to interior spaces, halt scheduled elective surgeries and let people go home rather than under the knife in a severe storm
nursing homes; to move patients who can't move themselves to safer locations
schools; to dismiss early or (in some areas where it's safer to be at school than home) communicate to parents that kids will be kept at school till the threat passes
large events; to smoothly evacuate arenas and sports venues, allowing attendees to get out of the facility and back home or out of the path of the storm.
The key is: a large amount of people takes a long time to clear out, and it's even longer to move people who are bed bound. One, two, or four hours lead time gives those who have to deal with these situations time to deal with it calmly and effectively. A 30-minute warning for many of these places/events is essentially no warning at all.
Hayes tells me the Wichita office is among the offices in the running to be a beta test site, when the research folks deem the science and computing power have reached the appropriate point.